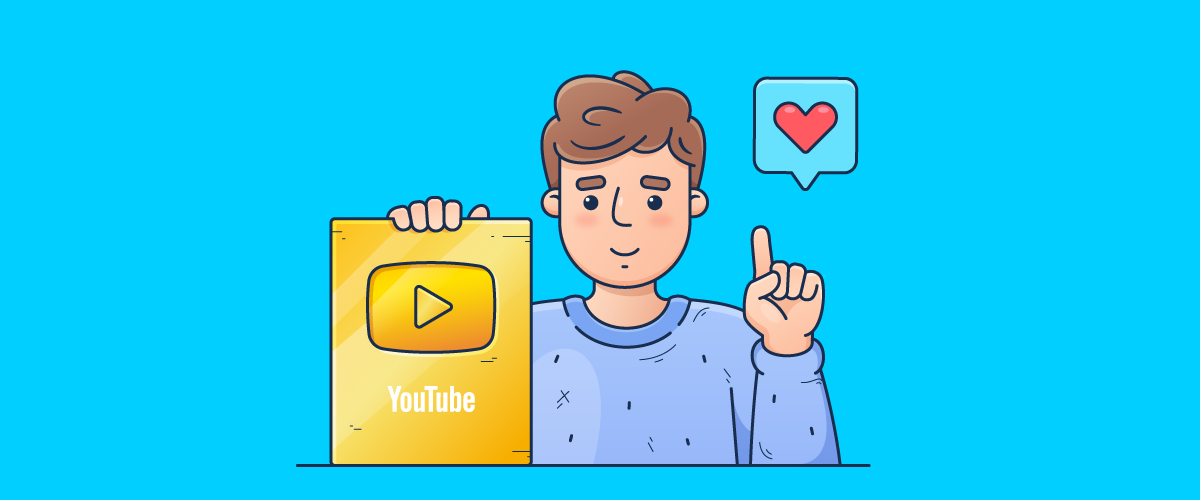 YouTube algorithms: how to get into the 2023 recommendations?
If you still made the bold step of trying on your own to understand the algorithms of the largest video hosting platform, or if you can't understand why your videos are still not being included in the recommendations, let's try and figure it out together.
YouTube algorithms: the "pitfalls" of the recommendation system
So, while Google and Yandex are systematically reducing the volume of organic traffic, and Facebook and Instagram are tightening up moderation, YouTube remains an alternative source and is in practical terms "breathing down the neck" of the search giants. Like the other major streaming services, YouTube also uses a recommendation system. YouTube's system has nothing to do with search engine algorithms. For a video to get more views, it has to be on the recommendations list. The conditions may seem like a vicious circle, but successful video bloggers are forever appearing, so there must be a way in. The main question for beginners is how to attract traffic to your video and get it into the recommended list. Of course we'll give you the latest recommendations, but first we want to tell you why the YouTube algorithms prevent you from getting views from the outset.
Insufficient Data
The main problem here is related to the principle in which the algorithm operates when sufficient data has not yet been accumulated. This is typical:
for new projects;
for projects that have not reached a certain level of popularity (not enough ratings from users);
for videos targeted at a specific audience.
In such conditions, the ratings are formed artificially. The score is calculated not as an average for each position, but as a mean average. If a project has few reviews, the rating will tend towards a so-called "safe" average. The moment sufficient real evaluations appear, artificial averaging becomes irrelevant.
Stereotypes of algorithms
Another problem of the recommendation system can without exaggeration be called bias. In fact, the artificial intelligence of the platform is not yet as perfect as its developers would like. The ranking of information is influenced by the stereotypes and behavioural factors inherent in algorithms. How? Just take a look at this:
For example, if you enter "athlete" in the search bar, we will get a selection of videos with an emphasis on sporting achievements. If you enter the query "female athlete", the algorithm will give us a rating in terms of attractiveness of female athletes.
What's even more interesting is that the result is not only influenced by users, but also by bots. For example, in 2018, users of the online forum Reddit successfully performed a series of manipulations that resulted in Donald Trump's photo appearing in the search results when an n offensive search request was made.
As we see, the problem of bias in recommendation systems concerns not only YouTube. Google is constantly faced with the imperfection of its own recommendation algorithms. Developers try to fix errors quickly, but this is not always possible.
How do I get into YouTube recommendations?
The recommendation system may seem unfair to you, and a "cold" start may seem very difficult. In fact, there are working strategies that beginners can use and achieve a rapid increase in the number of views.
So, the first option required the following steps:
searching for popular videos in the niche – you can use the search banner on the platform or a popular channel where all you have to do is to filter videos by the number of views;
parsing of competitors' video parameters (length, semantics);
create your own videos with similar parameters.
It sounds like a simple task. Your video should be better than your competitors' ones. Let's see what "better" means.
Tip # 1: Your video should be longer than the most popular video in the niche
YouTube takes into account the expected viewing time. This is estimated in terms of the so-called metric "Expected watch time" which is an absolute rather than relative value. This is also indicated in the document as "Deep Neural Networks for YouTube Recommendations". Shoot long videos that keep the user on the platform for longer. That is, a 10-minute video with a viewing duration of 50% is better than a 5-minute video with a 100% viewing length.
Tip # 2: An intriguing start provided by the first 15 seconds of viewing
It is very important that users view the first 15 seconds of video content. In order to achieve this, you need to give it an enticing introduction. The intriguing beginning should be followed by the most useful and interesting part of the content. Tell the user about the benefits of the information that they will receive by watching the video.
Tip # 3: Add dynamic elements and a semantic core to video content
YouTube AI is capable of recognizing and analyzing the content of the video: the semantics of decryption, images and other elements present in the video. You can parse the semantics from competitors' videos by exporting the transcript and then analyzing the text. You can make the video content dynamic and be "liked" by YouTube with the use of infographics, images, music, and other elements that the algorithm is able to read and analyze.
Tip # 4: Make the content exclusive and original
Once you start immersing yourself in the world of YouTube, you will realize how difficult it is grab user interest today. The audience is already quite sophisticated, and it's no easy task to earn views. So turn on your creativity up to the max and give people what they want to see here and now.
Let me give you a great example, in our opinion. In just a year, a guy from the provinces collected 22.5 million views, 95.5 thousand subscribers and 100 thousand dollars income, shooting POV videos involving cars produced by the Soviet automotive industry. This particular video format requires first person shooting. In this way, the viewers imagine themselves behind the wheel of the car and completely immerse themselves in the situation filmed by the blogger. This format has been around for some time since gaining popularity in Germany in 2019. However, the guy tried to his max. In a single year he released 182 videos (in just a second, 3-4 videos a week). This might be too much, but he was clearly passionate about his idea and made the most of it.
As you can see, it doesn't matter where you are. It is important to find your niche – when you love what you're doing; it's much easier to grab your audience's attention.
Tip # 5: Prepare a content plan and stick to your strategy
You won't break into YouTube with a single video; you need to be regular and systematic. As a novice blogger you need to have scripts ready for 10-12 videos ahead. It's fine if you can upload a video once a week, fine, two is just great. You need to think through their scenario before hand, so you don't just disappear afterwards. You mustn't throw the content together in a hurry.
Tip # 6: High quality video and sound
In 2023, people no longer watch "agricultural" videos. They want to be able to hear the author. So take care of the high quality of the picture and voice over (you definitely need more than a built-in microphone). Provide a clear sound without echoes, backgrounds, and any other rubbish. You don't want to apologize to the audience.
Tip # 7: Interact with your viewers
Allow viewers to comment on the video, respond to comments, and thank them for their opinions – good and bad.
Tip # 8: Make an interesting preview
It's not enough to make an eye-catching thumbnail. The user should have a desire to open and watch the video. The title should be catchy, accurate, intriguing and short (up to 60 characters). It is important to convey to the potential viewer the benefits of watching this video in the first 15 seconds of the video. The title needs to specify as concisely as possible what the video is about using key queries.
How do you find out whether your video has made it to the recommendations?
This information can be found in the "Analytics" section. In the "Views" tab, there is a "Featured Videos" line, where the percentage of viewers who came to the channel from recommendations is shown.
Also, video hosting makes it possible to view statistics for each video separately. In the "Video" section, select the project you're interested in and open the "Analytics" tab. If the video got into the recommendations and had got views, this information will be displayed in the statistics.
Traffic buying using YouTube channels
You can earn on YouTube not just from cooperating with AdSense. An alternative way to easily and effectively monetize YouTube is through partner marketing.
Of course, when it comes to traffic buying, it would be irrational to use YouTube as the main source, along with push traffic, for instance. Still, it's good as an additional and very powerful channel.
If you manage to become a successful video blogger, then monetizing your channel by channelling traffic to partner offers or to a smart link will provide you with a stable income.
Time to start earning!