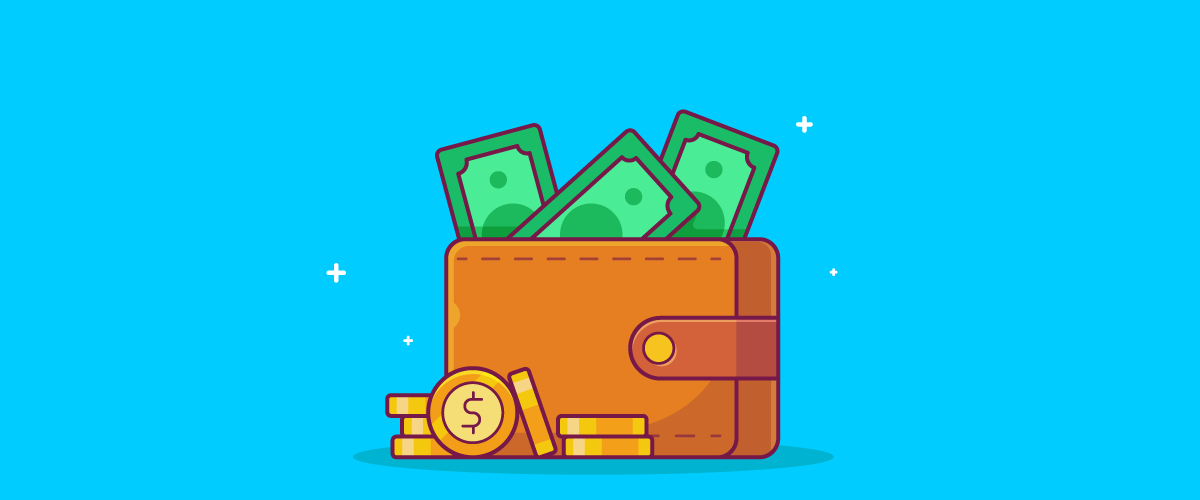 What is website monetization?
Introduction
Website designer Sara Soueidan spends her weekends scouring WordPress, milling over minute differences in FAQ widgets and figuring out how to shorten her user's buyers journey.
Her site provides content and services her millennial target audience adores. It keeps these users coming back to her site (and telling their friends).
Maybe you're like Sara and have a strong track record of tens of thousands of visitors to your site- or maybe you're just getting started.
Either way, you should consider monetizing your website. Monetization connects your website visitors with other businesses. You can make tens of thousands of dollars per month just through website monetization techniques like:
Adding non-intrusive banner ads to your pages

Publishing a sponsored product review

Running a donation-based campaign like Wikipedia

Developing sponsorship packages with paywalls
So what's the catch?
Although there are a plethora of monetization techniques, using the wrong one can chase your traffic away. Picture clickbait web pages filled with pop ups and jammed with banner ads. Thoughtless monetization like this disrupts your refined UX and downgrades your website in search engines
In order to successfully monetize your website, you have to match your audience to the appropriate monetization technique.
Depending on the strategy used, monetization may require close to no additional effort, or may require developing entire new pieces of content.
By the end of this article you'll be able to select the monetization strategies that best fit your audience and site so you can generate income through impressions, clicks, and conversions.
What is CPA, CPM, CPS?
Before we dive into monetization techniques, let's nail down the basics. There are a few terms you should know related to how you will get paid.
CPM stands for cost-per-mille (mille is Latin for one thousand). With CPM advertising, you are paid depending on how many advertising impressions AKA page views there are. These views are counted in 1000s. CPM rates can vary from $0.25 to $200. Higher rates can be charged if:
The ads are for a higher cost good like designer bags or expensive electronics.
Your audience is a particularly good fit and willing to pay for these products.
Ex. You charge $10 per 1000 banner ad impressions.
You have 10 banner ads on a page.
You get 10,000 impressions on that page per week.
That's an income of $100 per week.
CPC stands for cost-per-click. With CPC advertising, you are paid by the number of ad clicks.
Ex. Tech giant Google is notorious for their CPC ads.
If a Google Ad is $50
This ad is clicked 1000 times during the week
Then Google earns $50,000 that week
If no one clicks the ad, Google makes no money.
CPA stands for cost-per-action. Sometimes called PPM (pay-per-performance) or CPA (cost-per-acquisition), website owners like you only get paid if a user clicks AND performs a specific action. Actions are determined by the company advertising and can vary from purchasing an item to signing up for a newsletter.
Ex. Wall Street Journal runs a CPA campaign on your site
You earn $10 per subscription signup.
2500 users click on the ad.
Of those, 500 users signed up for the subscription.
You make $5,000.
14 steps to monetize your traffic
Now that you've got some of the basic terms down, let's explore 14 of the best website monetization methods and decide which option is best for your business.
1.OnClick Popunders
OnClick Popunders are commonly referred to as "popups". These ads activate immediately when your URL loads or after a custom time period. OnClick Popunders make it impossible or very difficult to view your content without first interacting with the ad- either pressing the CTA (call-to-action) or exiting out.
Pros: OnClick is an extremely customizable method. It features a lot of space for both, copy and images. Having so much space for promotions, also makes this format one of the most effective, compared with all the other monetization solutions.
Cons: Ad blockers, which prevent popups, are now commonly installed on devices. You can work around this with anti-popup blocker softwares and plugins. As well, pop-up ads often annoy site visitors and downgrade your site's Google ranking.
Tip: If you have a pop-up, it should be focused on your business, not someone else's.
2.Direct Links
Direct links, also known as Smartlinks or Directs, are ads usually on the side, or top of web pages with an image and text determined by the advertiser. Direct links bring users to an advertised page when clicked.
One of the most popular direct link ads are banner ads.
Pros: As a website owner, you don't need to optimize anything for banner ads. These ads also work on social media, direct messaging apps, or emails.
Cons: You should use discretion when selecting potential advertisers. Showing too many irrelevant or intrusive display ads can negatively impact user experience and turn visitors away.
Best for: High-traffic sites with large, wealthy audiences or smaller sites with highly targeted audiences.
When Not To Use: Newer sites with few page views and those with comparatively low traffic are unlikely to make much money with this technique.
3.Push Notifications
Push notifications are short messages sent to users' laptops, desktops, phones or tablet devices. They appear like smartphone push notifications, featuring an icon, short text, a call-to-action, and possibly an image. Users usually must "opt-in" to receive these notifications and do not even have to be on your website to receive them. This increased visibility is just part of what makes web push such a powerful marketing tool. Website push notifications are currently supported on Chrome, Safari, Firefox, Opera, and Samsung Internet.
Pros: One of the most effective formats in reaching users. Very visually appealing. Click rates are high. In addition, there are a lot of ways to optimize your Push Notifications to make users react to them even more.
4.In-Page Push
In-Page Push (IPP) is a relative of the Push Notification. This is a new ad format which emerged in 2020. These ads look similar to push notifications but users do not need to subscribe to them. These ads are actually banner ads displayed directly on your websites. Payment is in the form of CPC. In-page push ads are available on all devices including iOS.
Pro: This great alternative to banners, is even more interesting for users thanks to the customizable skins that not only allows them not to affect your UX, but also mimic your website's interface.
Best For: Being so customizable also makes IPP a favorite when it comes to niche websites.
5.MultiTag
All ad techniques we've explored thus far require individual tags or pieces of code. Don't want or know how to manage these pieces of code? MultiTag is for you.
Multitag is a universal piece of code that sits in your site. It perfectly combines OnClick, Push Notifications, IPP, and Interstitials while merging independent format tags into one. With Multitags you simply add an all-in-one code.
The best part is that multitaging auto-optimizes ads for you, selecting the most suitable and profitable ad format for your website. Your visitors will see ads geared specifically toward their interests.
Pros: It will help you get high CPM rates, fully optimize your ads, and maintain a flawless user experience. MultiTag ensures that you get the most profitable combination of traffic and ad format using a smart algorithm based on millions of conversions, so it's a time-tested approach that we know is going to work.
Best For: If you want to combine various formats, but lack the technical skills, are just starting to monetize your site and have limited time.
6. Pay-per-Click Advertising
Pay-per-click advertising or PPC traditionally involves placing ads in search engine results pages to drive people to your website. PPC ads are commonly acquired through a bidding process. The most common PPCs are "sponsored" ads that appear at the top and side of search engine result pages.
In this process Google is making all the money from ads. But how can you get in on it? The best way to get started with PPC is to use the tool, Google AdSense. Google AdSense places relevant ads on your site related to your content and audience.
With PPC through AdSense you can expect to get 68% of revenue from content and 51% from search ads.
Tip: You should use keyword research platforms, such as SEMrush and SpyFu, to find relevant keywords for your audience.
Best For: Sites that generate significant amounts of traffic on a regular basis.
Pros: Google AdSense is very easy to navigate even for novices and doesn't require much effort to set up. With Google AdSense you'll also receive immense support from Google, through customer forums, tutorials and one-on-one meetings. They may even set up your account for you. Google will always pay you on time, usually between the 21st and the 26th of the month.
7. Native Advertising
As consumers grow frustrated with intrusive ads, such as display banners and pop-ups, publishers search for new ways to serve them ad content and avoid being blacklisted by ad blockers. That's where native ads come in. Native advertising is particularly effective because it allows your readers to reach relevant ads when they're ready and open. It is non-intrusive and integrates an ad into the natural editorial style or content of your website. Native advertising seamlessly blends into your website and appears as organic content (with a disclaimer "sponsored by").
Native advertising comes in many forms, such as sponsored blog posts or discovery platforms, which serve sponsored recommended content.
Because of their effectiveness, U.S. advertisers spent about $44 billion on native advertising in 2019, an $8 billion increase from 2018.
A great example of native advertising is The New York Times (NYT) and the shoe company AllBirds. These native ads were in the form of a sponsored New York Times article. This content was promoted on the NYT website's regular newsfeed with a sponsored tag. When users clicked on the article they were taken to a unique page that had specialized graphics and sound effects.
Pro: Native advertising fits seamlessly into the content that surrounds it, providing a more intuitive and engaging experience for the reader or viewer. websites with personalized ad content that doesn't disrupt the user experience.
Cons: Require a lot of effort and time to write sponsored posts each month. Brand value (the sponsored content vs. your blogging brand).
8. Selling Ad Space
You can make money from your websites by selling ad space to advertisers directly or through an ad network. The advertisements can take the shape of a link at the bottom of the page, side banners, or small pop-ups. The pricing for each can also vary. This method utilizes the pay-per-click or pay-per-visitor model.
Con: More time consuming than other monetization methods.
Pro: More potential for earnings than display ads. You have control over price negotiations.
Example: TechCrunch sells display ads at the top of its publication to reach readers with tech-related ads.
Best For: To make use of this method, you need to have a high conversion rate as well as traffic.
9. Affiliate Marketing
Affiliate networks connect website owners with brands looking to promote their products. Once you join a network, you can advertise products on your site in exchange for a commission. You can be paid CPM, CPC or CPE. Most commonly you are paid when readers buy the products or services advertised. Another form of affiliate marketing can be offering coupons from affiliate partners.
The best-known affiliate program is Amazon's Associate program. Leveraging Amazon's credible name, you can increase your conversion rate. Their diverse products allow you to customize which products you will promote on your site. Commissions are up to 10% and vary by category. As well, if someone follows an affiliate link and adds the promoted item to their cart, the affiliate earns a commission on the customer's entire cart.
Best For: Product-centric sites, social networks, news sites, and forum sites where customers regularly post product reviews. Highly recommend trying if you have a talent for reviewing or promoting products.
Cons: Although affiliate marketing can be lucrative, it's important that website managers evaluate whether or not an aspiring affiliate is a good fit for the company. After all, showcasing ads for irrelevant or low-quality products on your website can annoy your visitors and diminish clients' trust in your business.
Pros: Affiliate marketing is one of the easiest methods to earn passive and consistent income if your website has an active user base that will listen to your opinion.
Tip: Try to include affiliate links in your content organically.
10. Donation-Based Monetization
As an alternative to advertising, you can ask readers for donations. You may be creating content for free, either as a side-hustle or a hobby. With a donations program, your users can send funds through platforms such as PayPal or Venmo. As incentive, they become instrumental in helping their favorite websites run. Not every reader will donate, but if you have enough traffic, you might earn enough to fully sustain your website and make some money on the side.
You can set up donation buttons on your site that allows readers to contribute directly. Link them to payment processors such as PayPal, Stripe, or Fundly. Make sure the readers can find your donation buttons easily.
For example, literature and philosophy blog Brain Pickings, for instance, asks readers to donate at the end of each blog post.
Best For: If you have a loyal fan base and returning visitors.
11. Flipping your Website
Just as people flip houses, you can flip your website to earn a profit. Flipping your website involves improving or developing design, content, and marketability. Then you'll prove its success by measuring traffic and engagement. Finally you'll sell to an interested party.
The factors that influence the selling price of a website are:
Amount of traffic
Profit it generates
Revenue steadiness
Continued growth
Tip: To understand how much a site can sell for, browse through the listings at Empire Flippers.
12. Membership Websites
Instead of, or in addition to, advertising, you can charge readers for access to your web pages. A membership website offers content to paying subscribers and is similar to a donations method. VIP treatment, enhanced networking opportunities, and discounted access to products and services are a few of the perks that companies offer to attract premium members.
Placing articles behind a paywall is a growing trend among major publishers such as The New York Times, Condé Nast, and The Washington Post.
There are many different types and tiers of subscription models for online publications, including: charging for all content; charging for certain content; charging for all content after ten free articles; charging for access to content on certain devices. Whichever mix you choose, make your options clear to readers and potential subscribers.
Example: International Living – an online travel magazine and Blue Apron – a recipe blog. Readers need to sign up or subscribe if they want to access the content of these websites.
Best For: You must have a team of content creators and loyal users with a willingness to pay. In order to develop a willingness to pay, take the time to develop high-quality content and generate a solid following before putting effort into membership-based monetization.
Pro: More reliable and steady income relative to other methods.
Cons: Requires more money to set up and maintain. Risks upsetting your regular visitors.
When not to use: if your content isn't premium or if you are small businesses without bandwidth to produce the extra content needed to keep members engaged.
13.Email Lists
Your email list may not be the most glorious of assets, but it's one of the most valuable things you can possess.You spent a lot of time and money building your email list and making sure it is up to date. Now it is time to make that list pay for itself.  there are a number of great ways to monetize your email list, from affiliate marketing to charging for premium content.Many businesses out there don't have the funds to run paid marketing campaigns consistently. And so they are looking for emails of people to whom they can market their products. Use solo ads to promote another other websites or products. You can get paid each time someone you refer makes a purchase.
Pros: If you can offer them a quality email list, they'll be happy to pay you well.
Cons: No matter how you choose to monetize your email list, it is important to move slowly and not expect overnight results. Trying to go too fast or do too much could actually turn off your readers and cause them to unsubscribe.
Best For: Monetizing your email list should be the natural result of the relationship you have built with your readers and not the original goal. It is fine to make money from your email list, but that aspect will evolve over time if you have done everything else right. Instead of trying to monetize your list from day one, focus on building a strong relationship with your readers instead. The results will not come overnight, but the long term results will be much better.
Conclusion
There is a lot you need to consider before starting to monetize your website. Here are some wrap-up tips:
Always Balance UX and Monetization Effectively: When considering all your options for monetizing your website, it's important to keep in mind that the user's experience (UX) is a vital piece of the puzzle. For example, if your website is so overloaded with ads or scripts involved in your monetization efforts that it loads slowly or even crashes, it's going to be of no value. If the way you set it up makes it too cluttered, confusing, or difficult to navigate, users aren't going to spend enough time there to click on ads or choose to invest in a membership program.
There are affiliate networks that offer free monetization tools to help publishers increase their profits. For example, LosPollos. Just register to get started.
Monetizing your site can bring in additional revenue, but more importantly, it can help you establish your brand with different audiences. Experiment, have fun with the process, and don't be afraid to venture into uncharted waters.
You know your audience better than anyone. Think about what they want and what they need, and find a way to deliver that while making some additional income. Once you've found that sweet spot, don't stop improving your online marketing skills. Your audience and wallet will thank you.