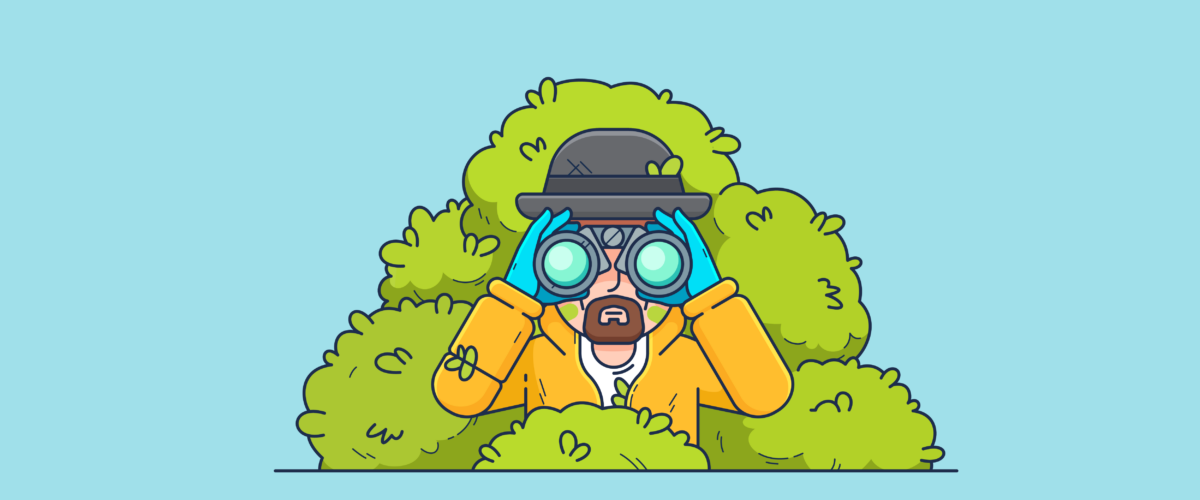 What are SPY services for Affiliate Marketing 
A spy service is a special media buying tool that allows you to essentially spy on your competitors. Typically, this is a huge database of advertisements that are currently relevant in a particular traffic source. With the help of such a service, you can find out what competitors are currently launching, how they are promoting advertising campaigns, and what results they are achieving.
Now spy services are abundant on the market. All of them are focused on different niches. Thanks to them, an affiliate can automate the process of testing and optimizing advertising campaigns, saving time and money. Therefore, do not rush to waste your budget on searching for working links when there is an opportunity to launch an advertising campaign and immediately get a high ROI 😉
Get comfortable. Today we will tell you more about how spy services work and whether they should be used in affiliate marketing.
What features do spay services provide?
Spy tools services are designed to perform the following functions:
search for working creatives in a given vertical;
identifying effective links;
targeting information;
identifying trends to understand what is easiest to advertise today;
tracking statistics and analysis of indicators.
Market monitoring takes significant time in the affiliate marketer's day. In search of working creatives, an affiliate marketer looks through millions of ads, enters a lot of keywords, changes location, and tries to understand the mentality of users in different GEOs. Doing this manually is a laborious task, and that is why it is difficult to do without spy services in affiliate marketing.
Useful services for Affiliate Marketing
Spy services can be specialized and universal. The latter is focused on several advertising formats at once. Specialized platforms collect data on advertising campaigns that are separately targeted to traffic from social networks, push notifications, teaser ads, and other sources. Thus, they are classified based on the type of traffic. That is, the Facebook spy service is designed to monitor Facebook ads, the push notification spy service helps track campaigns with pop-up notifications, and so on.
Paid sites are constantly expanding their functionality allowing you to get more information. There are also free spy services but with much fewer options. There you can see ads and landing pages but only with a selected GEO or advertising network.
Fb Spy Tools, or Facebook Spies
It is almost impossible to review in greater detail all facebook spy services because today there are already hundreds of them and covering every single one is simply not necessary. We will show only those Facebook spies that have been popular for a long time. So, based on the ratio "cost – information content", the following spy tools are worthy of attention.
AdSpy
This spy service is the largest database of ads not only on Facebook but also on Instagram. Covers over a hundred million creatives, 216 countries, and 80 languages. Up to 30,000 new advertisements appear here daily.
Pros:
you can refine the search and sort the results by country, language, file type, ad text, number of likes, CPA-grid, landing page, and advertiser ID;
in this spy service it is possible to track links;
shows text and image;
convenient to analyze statistics;
there is a trial period of 14 days.
Cons:
Among the shortcomings of the AdSpy spy service, perhaps, only the cost of a monthly subscription can be singled out. Using the ADSpy spy service for the Facebook marketing program will cost you $149 per month.
AdHeart
At the moment, one of the best-paid FB spy tools with the most up-to-date data, flexible filtering, and an adequate subscription price. For $53 per month, you can access 974,000,000 creatives, with up to 30 million new ones added daily. By the way, the spy service is great for the gambling vertical.
Pros:
you can track the launch date of the creative, the duration of the rollout, and statistics;
1,484,000,000 media files are available for download in good quality, suitable for further processing;
creation of collections;
sorting by 50+ languages;
possibility to automatically translate text into Russian;
availability of a free demo version (registration required);
you can blacklist pages, applications, and addresses that you do not want to be displayed in search results;
ability to filter by text, creative or page title, Facebook page ID, text language, upload GEO, media file format, application, domain zone, and push start date.
Cons:
The free version of this spy service does not provide the ability to download creatives, and the number of queries and search results are limited.
PowerAdSpy
A universal spy service for tracking advertising campaigns on YouTube, Google Ads, and social networks. But most often it is used to monitor Facebook. The library has over 50 million creatives from over 20 countries. You can pay from $49 to $249 per month for a subscription, which can help to save money on other Facebook marketing programs.
Pros:
you can get detailed information about creatives – landing page address, last viewed date, targeting settings, and social activity;
search mainly in tier-1;
possibility to track effective links of competitors;
ability to review the statistics;
spy service offers different payment options depending on the available functions;
based on the payment option, you can apply filters such as GEO, gender, age, device type, operating system, advertising format, and reactions;
you can use a free trial period for 100 launches for 10 days.
Cons:
If you choose a payment plan for using a spy service with no functionality restrictions, you will have to pay $349 per month.
AdEspresso
Facebook spy service (as well as Google Ads). Unlike other FB spy tools, this one can be used without violating the rules of the social network. Here you can not only find creatives but also manage your advertising campaigns. New ads appear every half an hour, but tracking the actions of competitors will be less informative than in the above-described spy tools. And all because the spy service is designed to monitor its own advertising campaigns. But it will help to find good and bad ideas therefore still serving its purpose.
Pros:
you can filter the results by gender, age, GEO, ad format, and advertisers.
covers any GEO;
access to 25,000 advertisements;
free trial period – 14 days.
Cons:
the database is limited to only a certain list of social network advertising examples, there is not enough targeting and audience lists to apply to your own campaigns;
a trial is possible only after linking the credit card;
you will have to pay $148 per month to use this spyware, but an annual subscription will cost less – $99.
Facebook Ads Library
Facebook started updating its ad library in 2019: search was improved, the function to view active ads for all niches was added, information about the page was expanded, and the update period was reduced to daily. Enter a keyword in the search bar and get all relevant ads.
Pros:
free of charge;
no download and installation of additional software is required;
you can use this spy service even if you don't have a Facebook account;
filtering search results by GEO, gender, age, number of views, etc.
Cons:
it is impossible to automate the process, all ads have to be monitored manually;
it is impossible to receive information about changes in competitors' advertising campaigns or the launch of new ones.
If you drive traffic with Push — SPY services for Push Ads
Let's take a separate look at the spy tools for those who use push notification ads. Although pop-up ads are a relatively young advertising format, there are already quite a few spy services on the market for affiliate traffic coming from push notifications. By the way, among them, there are also free ones, and we will start our review with them.
Push.CPA.rip
Free CPA Spy service from affiliate marketing information portal with limited tools. Monitoring of seven advertising push networks for various GEOs is available. In this spy service, you can filter search results by device type, country, specific network, and other parameters.
Megaspy
This spy service only works with two ad networks and about a hundred GEOs. There are filters by name, link, description, release date, and the number of impressions – for being a free spy tool, these are some good tools to use.
SpyPush
SpyPush ads will cost $49 per month, for which it offers a lot:
monitoring of the 9 largest advertising networks;
2 million push notification ads;
convenient management of a larger selection of creatives;
flexible settings;
95 countries (most of them with good traffic);
24 hours trial without the ability to apply filters, however with access to some countries from tier1 and the ability to download creatives;
available filters by keywords, GEO, device type, launch date, push grid, link, etc.
Pushycat
Most recently, this spy service was created by top affiliates for their own needs. Previously, it was a private service, but today it is available for everyone. Spy service offers:
monitoring of 6 large ad networks from tier1 and some countries from tier2 (total of 16 GEOs);
daily replenishment of the database for 15 thousand creatives;
search filters by countries, keywords, links, and update date;
three payment plans are available in this spy service – 6.99 euros per month, 20.28 euros per year (currently there is a 76% discount), or 16.14 euros for half a year.
Let's go over some cons: the new spy service for affiliate traffic from push notifications lacks data on the time and popularity of the ad, as well as advanced advertising campaign statistics. So far, in this spy service, users can only view and download creatives and landing pages.
Mobidea Push Spy tool
One of the most powerful affiliates traffic services, especially in the hands of an experienced affiliate. Service abilities impress pretty much instantly:
monitoring of 40 advertising networks;
almost 20 million ads from 92 GEOs;
advanced targeting, which allows you to see what your competitors are doing right now;
the only spy service that provides information about the most effective combination of push traffic and offers;
database update and access to new campaigns every hour;
search filters by popularity, GEO, push traffic source, landing page, CPC, device type, and other parameters.
If you work only with push notifications, the cost for such spy service for traffic affiliates will be $80. For push notifications and native advertising, choose a payment plan for $125.
Other Spy Services
Spy tools for native advertising
Given the nature of native ads to look as natural as possible, masking as content, and they are more difficult to track than other ad formats. Tracking your competitors will be easier with these spy services:
Anstrex;
AdPlexity;
Adbeat;
Advault;
Telemetr;
Native Ad Buzz;
AdMobiSpy;
SEMrush;
AdPlexity Adult;
Spy.House;
SpyOver;
What Runs Where;
Social Ad Scout.
Spy services for teaser ads
The most popular spy services for monitoring teaser ads:
SpyOver;
AdvanceTS;
Publer.
Spy services for GoogleADS, BingADS, Yandex Advertising Network
Advertising from search ad networks is the most effective and most expensive. Therefore, here spying is more expedient than ever. The following services will not leave you disappointed:
SEMRush;
SpyFu;
iSpionage;
idvert.
Spy services for mobile advertising
Mobile Advertising is perhaps one of the most difficult formats for affiliates, even taking into account the fact that now everyone uses mobile devices. The audience is different, and it is extremely difficult to predict the mood, so we offer you several popular spy services in this category to help you:
WhatRunsWhere;
AdMobiSpy;
Adplexity;
AdBeat.
Spies for Instagram, TikTok, YouTube
In this category, we have selected the most convenient universal spy services:
AdSpy;
Social Ad Scout;
PiPiAds;
TikTok Spy;
AdSpyHub (BigSpy);
TikTok Creative Center;
PowerAdSpy.
Recommendations for affiliates choosing to work with SPY services
Spy services were created to help affiliates and marketers and for that reason, the developers try to make each of the spy services as convenient and intuitive as possible. Even a beginner will be able to figure out the interface of most sites.
All work with the spy service comes down to the fact that after registration, a key query is entered into the search line and filters are configured according to the required parameters. After that, the search results from the spy service are downloaded, the best creatives are filtered out and new relevant advertising campaigns are created.
To make work with spy services most efficient, we would like to give a few recommendations:
enter keywords in the language of the selected country;
pre-analyze key queries in Google.Analytics to assess the popularity of the query in the selected GEO;
refine your search in the spy service as much as possible – each parameter helps to separate an unsuccessful creative from a good one;
set the search time period to 1-2 weeks. This interval is enough to evaluate the effectiveness of the campaign;
Exclude ads launched by global brands from the search results in the spy service (firstly, there is a risk of copyright infringement, and secondly, the "giants" have a huge budget for advertising, they are not tied to affiliate rates);
do not copy other people's creatives in spy services, improve them and make them better – implement your ideas, adapt, and improve;
peep promotional materials from advertisers with consistently high ROI and high traffic flow;
analyze the effectiveness of creatives depending on the duration of the promotion, type of device, and operating system;
to find ads with a big budget in the spy service, filter the search by daily traffic volume. If the performance remains high for two or three days, then the creatives will most likely work in your advertising campaign.
P.S. Spy tools services play an important part in affiliates' and marketers' work. They help save time, and budget and bring you closer to the desired ROI. Whether to use them or not is purely up to you. But if you are planning to work in affiliate marketing, you should be aware of the existence of spy services for affiliate traffic. Sooner or later, you will still end up using these services. So take note now 😉