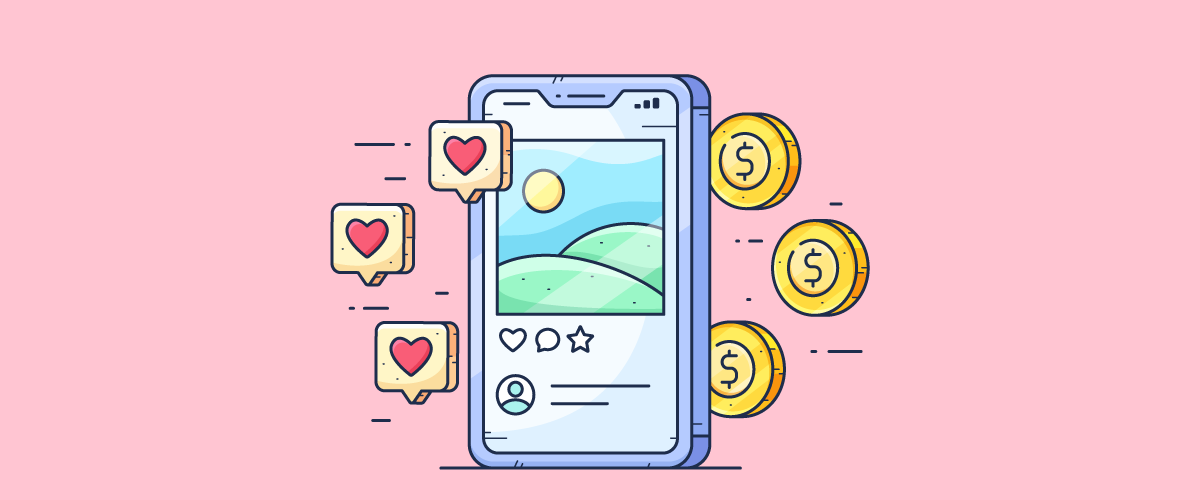 Social Network  Media Buying 
SMM is one of the most effective methods of promoting services, goods, and business. That is why social network media buying in most cases brings good results. Social networks have long ceased to be exclusively a platform for communication only. Now people not only communicate and look for old friends but also find useful information, learn about brands, order services, sign up for procedures, look for reviews (and share them themselves) and make purchases.
Affiliates drive social traffic to a variety of offers for almost any vertical. Probably, almost every moneymaker tried to get free traffic from social networks at least once in his or her lifetime.
But setting up traffic that converts in social networks is impossible without understanding the internal rules of each individual resource and the characteristics of the audience. Therefore, here we will introduce you to the websites popular among affiliates and the specifics of these sites. You will learn how to attract traffic from social networks, what offers to drive to, what a site needs to effectively process traffic from social networks, and a lot of useful information that will help you gradually move out of the category of beginners in media buying.
Media Buying and Social Media Traffic Features
According to one of the largest American agencies in the field of digital marketing – Hanapin, in 2022 already 88% of business owners use advertising on Facebook and at least 30% on Twitter. Another 10% promote their business on sites like Pinterest, Snapchat, and Quora. At the same time, the top of the most popular advertising platforms does not yet include Reddit, which, by the way, ranks 6th in the ranking of the most visited resources in the world. This suggests that at the moment Twitter and Facebook are bringing advertisers the desired results. However, to determine a successful social media promotion strategy, you need to test advertising on different sites and master new ones.
Getting traffic from social networks has its unique characteristics, which we will take a closer look at in more depth, case by case basis.
Instagram
One of the most relevant platforms with a very active audience of half a billion users. The main feature is the ability to visualize goods and services, which encourages making so-called spontaneous purchases – that is, impulse buys made in a certain emotional state. This, of course, applies to a greater extent to the female audience, which, by the way, makes up about 2/3 of the total number of users. Slightly more than 70% of Instagram's target audience are young people under the age of about 25.
Telegram
Telegram is an up-to-date messenger for personal correspondence and creating various thematic channels. The audience is predominantly male (about 67%) aged 18-35, with an average and above average income. According to statistics, the majority of users are employed in the field of IT and digital marketing. Another important feature of Telegram is a high level of engagement, where posts have almost 100% visibility.
TikTok
The TikTok audience today is 800 million people, with 8 million coming from Russia. The content format is short videos that are viewed mainly by young people aged 16-24 (about 40% of the entire target audience). The ratio of men and women on this platform is 40% and 60% respectively which makes it a very lucrative ground for social network affiliate marketing.
Facebook
More than 2.5 billion users are observed here, of which a little more than 9 million are Russians. Facebook usually has a solvent target audience. Most often, FB traffic is sent to goods, dating (although recently it has become even more difficult), and the nutra-vertical.
Odnoklassniki
Most of the 50 million users are men (43%) and women (57%) from the countries of the former CIS. The audience of Odnoklassniki is more often mature with an average income level. Keep in mind that this platform has enough paid features that the audience willingly uses, but external links are often perceived negatively.
In affiliate marketing, this site is used less frequently than VK and FB, but sometimes traffic from Odnoklassniki shows an impressive conversion.
Twitter
Twitter has a monthly volume of 300 million users and affiliate marketing is predominantly focused on offers for the essay and eCommerce verticals. Twitter's audience consists of 18-30 years old, with a little more than a million Russian citizens using this platform. These numbers are low for the Russian population as, since 2020, advertising on Twitter is officially unavailable to Russian users.
Vkontakte (VK)
According to the latest data, VK is visited by more than 100 million users per month, and they spend an average of about half an hour a day browsing the platform. VKontakte audience is not only those who grew up with the platform and are still loyal to it. Most people are 25-34 years old and use the platform for online games and other entertainment services.
Pinterest
At the beginning of 2022, the number of active users of this platform reached a quarter of a billion, and the total number of pins reached 175 million. The content format here is a visualization from recipes to sneakers. By the way, according to the latest data, advertising on Pinterest proved to be more relevant than on other social networks (up to 1.5 times).
Snapchat
Snapchat ads are right for you if your target audience is young people aged 18-24. Almost ¾ of Americans of this age are active users of this social network.
Quora
This portal operates in a question-answer format and receives about 300 million unique users every month. This platform has a larger versatility when it comes to topics and threads, so you can find your audience and promote almost any offer.
Reddit
The sixth most visited website in the world – about 234 million unique users come here every month. Many websites do not want to deal with this social network, but in vain, since the reach is huge.
How to drive traffic from social networks
| | | |
| --- | --- | --- |
| Social Network | Ways to Attract Traffic | Restrictions and Limitations |
| Instagram | Targeted advertising. Creating and promoting your account, advertising with bloggers, mass following, mass liking. | Direct links in posts. Automatic likes and subscriptions. |
| Telegram | Promotion of your Telegram channel. Creating a chatbot for a specific affiliate program and promoting it on third-party channels with a suitable target audience or spam mailings to chats and directly to users. | For mailings, you need a database with phone numbers. Newsletters are often met with negativity. |
| Twitter | Purchase of official advertising. Placement of advertising in short posts – tweets. Cheat indicators with the help of special services. | Buying likes and subscriptions do not make it possible to segment the audience. It is impossible to use creatives in the Russian language and target the campaign for Russia as geo. Russians are forced to use proxy servers, register through SIM cards from other countries, and use other paid ways to bypass restrictions. |
| Odnoklassniki | Launching an advertising campaign through the MyTarget service. Buying advertising in thematic communities through admins or the Sociate service. Creation and promotion of a community with a name optimized for popular search engine queries. Spam in comments under top posts. | High level of distrust of external links. The need to use pre-landers, test creatives, and bundles. Lack of advertising space. |
| Vkontakte | Targeted advertising of 2 types: a picture with a short description; advertising text that is displayed on the group wall or in the feed. There are also options for posting ads in other communities and posts. Spam in comments in promoted groups. Mass likes and subscriptions. | High probability of being banned. The need to own multiple accounts. Spam mailings require a lot of time, sometimes investments (minimum investments). |
| Snapchat | Advertising in Story Ads or Snap Ads format (in the form of an image or video). | The ad must correspond to the general atmosphere of the site. |
| Quora | Advertising in Promoted Answers. An advertisement in the form of a picture with the text of an answer to a question. | The length of the text should be no more than 105 characters. |
| Reddit | Placement of ads in the user's feed. Setting up targeting by "subthreads". | Blunt advertising. Like boosting. |
| Pinterest | Advertising in Promoted Pins. | Using shortened links in Pins. Quick likes, subscriptions, uploads of your and others' pins, and repeated comments in large quantities. |
| Facebook | Advertising in thematic communities. Comments under thematic posts. Creating and promoting your account or community. Targeted advertising. | Interactive elements. False promises. Aggressive statements. Distortion of the name of the site, font emphasis, the use of variations, abbreviations, and word forms. Personal characteristics (gender, age, income level, etc.) Advertising of medicines, weapons, 18+ goods, tobacco products, etc. |
| TikTok | Several types of advertising through TikTok Ads (animation, video, unique hashtag) Advertising campaign through Yandex.Direct. Creation and promotion of your accounts in any quantity. Advertising with popular bloggers | Strict moderation of applications for ads registration. Comments no more than one per minute. You need to take a 4-hour break after 70-100 comments. |
The table shows paid and free ways to attract traffic from social networks.
How to get free social media traffic
If, of all the ways to get traffic from social networks, you choose to create your page or community and promote it, remember that your main and only weapon is content. It should not only be within the theme of your site but appear there systematically and regularly. Remember that no one has yet gained an audience by posting on occasion. At the same time, SMM should not take up too much of your time. Be open with the audience, ask for feedback, organize sweepstakes and votes, open comments, encourage participation in discussions, and interact with users in every possible way.
How to buy traffic from social networks
Buying traffic from social networks is often used by affiliate marketers, as it saves valuable time. These days you can buy a well-developed account with an already existing base of subscribers, and even with a guarantee against a ban. The price largely depends on the age of the profile or channel. If an account was created more than a year ago, it already has a fairly high level of trust, which means there is a minimal chance of being flagged by the moderators. Please check the page carefully before purchasing. Also, spam mailings with an offer landing show a very good result – many markets sell this service.
Buying social media ads
Advertising with social networks is a reason for a completely separate article, as there are a lot of little nuances here. But in a general sense, we recommend carefully choosing platforms for advertising (in the case of advertising in VK communities, for example). Taking into account the involvement and interests of the audience, and the number of real subscribers, use services to assess the quality of the audience.
How to bypass restrictions
Cloaking is traditionally used to bypass social media restrictions. The essence of the method is that two websites are created on the same domain name, on one of which the moderator sees a landing page with an allowed product, and users see, for example, an advertisement for diet pills or dating 18+. This method is officially prohibited, but it is still widely used among skilled media buyers. If you don't know how to cloak, try not to work with prohibited offers 😉
Where to send traffic from social networks
In 2022 traffic coming from Instagram mainly goes to offers advertising products from the nutra vertical (beauty, health, weight loss, sports) and eCommerce (products for everyday life, household appliances, gadgets). Given the characteristics of the target audience, there is also a good conversion of social network traffic to essay offers. By the way, the platform is tailored for mobile devices, so it is not reasonable sending to sources that do not have an adaptive version.
When it comes to popular verticals for traffic from social networks, most often various schemes are used to send traffic to gambling, betting, and finance. But before attracting traffic from the Telegram social network, prepare to face strict restrictions and some negativity coming from the audience concerning casino and online poker advertising.
Odnoklassniki is still popular in Runet, as such this social network typically works with a mature audience and is used as a source of traffic for offers of various verticals – from weight loss to adult.
Pinterest and Snapchat are suitable for all niches – nutri, sports, gadgets, and dietary supplements.
VK, Facebook, and Twitter traffic is often directed into education, dating (we recommend reading the article – what is affiliate dating), goods, microloans, online games, sports betting, and e-sports.
If we are going to talk about the devices that see a predominant flow of traffic coming from social networks, then we can say the desktop here is at a significant loss. Most users transitioned to tablets and smartphones (this does not apply, perhaps, to Odnoklassniki). Therefore, if you use social networks to send traffic, your offer must be compatible with a mobile version.
How to analyze traffic from social networks
According to the Statista Research Department, over the past year, business owners have praedominantly seen their traffic coming from social networks. This suggests that users are more likely to learn about brands from social networks first, therefore, it is extremely useful to systematically analyze social traffic. But likes, reposts, and comments alone will not help to find out the true number of visitors, instead, you will need to focus on the number of clicks your post received. Some sites provide metrics and statistics. However, it is not very convenient to collect data for each site if you are driving traffic to the site from multiple social networks. You can automate this process by using third-party social media analytics tools to shorten the links.
In Amplifer, for example, you can see the statistics on the number of transitions both overall performance and for each page. You can find out from which social network the user came from using utm tags, which divide into the following categories:
utm-medium – will help you find out the type of traffic;
utm-source – shows the traffic source (you can specify the name of each social network);
utm-campaign is the campaign from which the traffic comes.
These are basic tags, which are quite sufficient for social networks traffic analytics. Use the utm tag generator to track statistics in Yandex. Metrica and Google.Analytics for all other sources, so you can see from which site and post the user came. The additional tags utm_term and utm_content allow you to set the post ID and keyword, respectively.
What does a website need to effectively process traffic from social networks
In some cases, before attracting traffic to a site from social networks, you need to optimize it for social networks. Competent SMO will help to keep existing users on your source longer and attract new ones more actively. So, your site is ready to send social network traffic if:
regularly updated with relevant, unobtrusive, relevant, interesting, and understandable content that you would like to share;
optimized for sharing in social networks (the presence of Open Graph micro-markup in the HTML code, has widgets and call-to-action buttons for likes and reposts are located in a prominent place);
has a good user navigation experience (thematic tags, readable content, linking, the ability to rate and comment, and everything that makes the interface convenient and intuitive);
If you have all this, you can safely engage in attracting traffic and follow the indicators.
Media Buying – which is better, contextual advertising or social networks?
Social media marketing takes place by taking into account the constant characteristics of the audience, whereas contextual advertising is set up based on keywords so that it responds to current users' real-time requests. Advertisements in this case are shown in response to a user request, and as such their effectiveness is consistently high.
For affiliate marketing, social networks are a good source, but not always appropriate (just like any other traffic sources).
A rule of thumb: if you need to promote a product here and now, then first of all set up contextual advertising. It will bring leads faster than native or targeted social media advertising. If the task is to develop a brand and increase reputation and recognition, then SMM prevails.
Promoting a business in a social network environment is very important and is also costly. Social media advertising is well-targeted and gives huge coverage. It is quite possible to promote offers on social networks for free, which is impossible to do in contextual advertising, as well as working with prohibited niches.
The first step for an affiliate marketer is to compare the expected profit and campaign costs. Remember about ROI, because your investment in an advertising campaign should be fruitful, with no losses and sad experiences.
Social Networks traffic monetization
Let's say you figured out how to increase traffic through social networks, and you succeeded. What's next? The best way to monetize social media traffic is to merge it into offers from the CPA network. Choose affiliate programs that accept social traffic. LosPollos, for example, monetizes almost any traffic, including mixed traffic but, it can be sent to only one link. Our unique algorithm allows you to segment the audience according to different criteria and select the most relevant offer for each user. For an affiliate, this only means that all of his traffic will be monetized. Therefore, your task is to send more traffic and not be afraid to invest, and our task is to ensure the conversion rate and inspiring profit;)