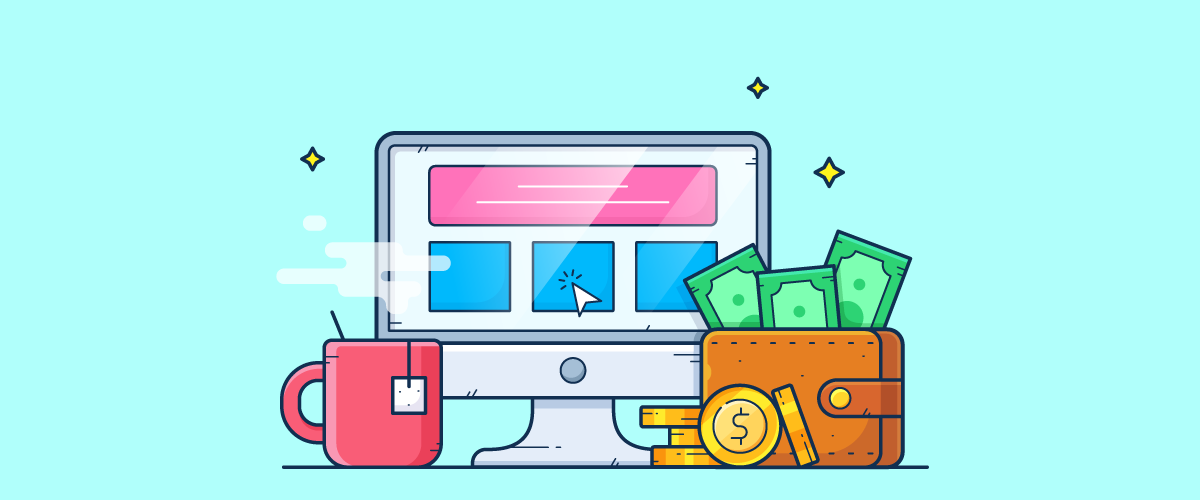 Interesting facts about website monetization
Are you the owner of a resource that already has a certain reputation among users and search engines? It's time to think about how you can make money on your site!
Imagine that you have a space that you could rent out and earn passive income, but you don't. Irrational, isn't it? Also, your online platform should not be "idle". For those who do not yet know how to monetize their site, we will tell you in detail what site monetization is, will reveal the secrets of big money on the Internet, and ways to establish passive income coming from your resource.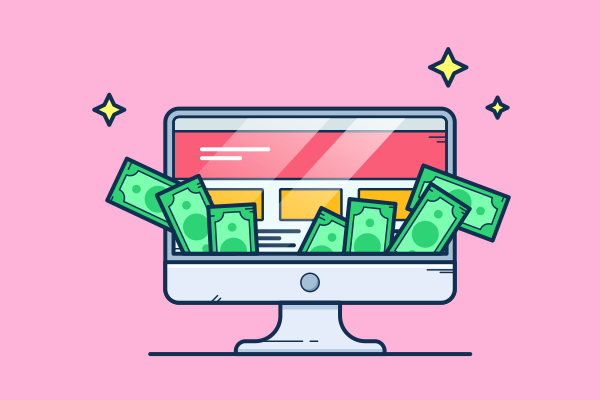 What sites can be monetized
Before discussing the options for site monetization, let's find out if it is possible to earn anything at all on your website.
Website monetization is a way to squeeze the maximum profit out of it using the attracted audience. So, before you monetize traffic, you need to take good care of the number of daily visitors to your site. Whichever way you choose to make money on the site, the amount of potential income will be directly proportional to the amount of traffic.
Usually, you earn on these types of online sites:
commercial sites – bring direct income from the sale of goods or services (online stores, streaming services, online courses, and sites offering paid subscriptions and downloads);
information portals – attract users with high-quality and useful content, and survive through advertising (entertainment and news sites, news resources, blogs).
It is merely impossible to earn with one-pagers (landing pages) advertising, not to mention that the minimum "entry threshold" in Google Adsense is at least a thousand user visits and more than 30 pages with unique content.
But this, of course, does not mean that all ad networks have the same strict conditions.
How much can you earn on your site if you monetize it correctly
You can make money on your site once (for example, sell it) or consistently continue to receive income.
Website advertising brings money for the number of unique users' clicks on the link or a percentage of sales. For example, Google AdSense used to require over a million views per month to earn $10,000 per month. The more traffic, the more clicks, and the higher the income with no upper limit to earnings in this method of traffic monetization. But you need to attract visitors before you place ads on the site.
Regardless of the chosen method of making money on your site, its ongoing development and traffic attraction is where it would be right and useful to begin. Developing a site means improving its usability, filling it with high-quality content, adapting it to mobile devices, increasing its link mass, etc.
Which sites monetize best
While there are many ways to monetize, getting paid for third-party ads or affiliate links is already a little more difficult in 2022 as competition keeps growing and Google introduces more and more restrictions.
But the relevance of the niche always matters. For example, sites dedicated to cryptocurrency, tourism, sports, finance, films, cars, and dating sites are popular today. The monetization of news site and online store will also be successful.
Options for site monetization
Advertising networks, Google AdSense, and Yandex YAN
Earning on advertising via search engines like Google and Yandex is possible by placing an advertisement that directly or indirectly touches on the subject of your resource. The owner receives remuneration from contextual advertising according to the pay-per-click (PPC) model. The ad itself can be presented in different formats – text, graphics, and multimedia.
If you choose to monetize your website in the abovementioned manner you will first need to register with the selected advertising network. After moderation, you will receive a code that you need to place on the site to display advertising content from the advertising network. Where exactly the ad will be displayed is up to you, but keep in mind that the more people click on it, the more you earn.
Direct partnership with advertisers and sponsors
You can directly offer advertising space on your site. If your site has consistently good daily traffic (more than 2,000 visits) before any ads are placed, advertisers will be interested in your offer, and you will even be able to establish your terms and conditions. A partnership proposal and details are usually placed at the bottom of the site.
Several ad formats can be offered to advertisers:
native – the most natural and unobtrusive mention of the promoted resource, which is relevant and can be useful for users;
banner – an advertising image with text that is placed in the middle or on the side of the main content;
pop-up – works perfectly with the so-called user "banner blindness", appearing on top of the page content, which can be very annoying;
branded – such advertising is often used by movie sites, surrounding the content of the page with it in the header or around the perimeter of the site.
placement of links – you can make your site a donor for other sites (by referring to a third-party resource in your content, you help it build a link mass, affecting ranking).
Email newsletters
Another option for sites to make money on traffic pertains to email newsletters. Once you have a certain subscriber base, you can offer them paid newsletters with useful and valuable content.
Paid site access
Just as some monetize their blog (if the blog has something valuable or exclusive), you can make paid access to the content of your site. This method is good for monetizing an informational site with unique content that users cannot get from free sources, and therefore are willing to pay for.
Teaser Ads
Another way to place ads on the site requires registration in teaser networks. This is a type of banner advertising, the purpose of which is to attract attention with an impressive headline and encourage the user to click on it. Teaser advertising is cheap and usually leads to negative feedback from the audience.
Selling a website or domain
Sell ​​online resources even when they continue to remain profitable. Some do not have the opportunity or desire to engage in promotion, which requires special knowledge and investments, while others specifically create them for further sale. The cost is affected by the age of the domain, traffic volume, position in organic search results, development quality, profitability at the time of sale, and niche relevance. There is one nuance – this option of monetization will only bring income once.
Partnership programs
The last one on our list, but by far the best website monetization option is made possible thanks to affiliate programs. The so-called "affiliate programs" offer to place partner (referral) links on their website and receive remuneration according to the CPA (Cost Per Action) model – payment for action. The target action, as well as other conditions of partnership, is indicated in the offers – partnership proposals. The advertiser can pay for the purchase of a product, ordering a service, downloading an application, registering, completing a survey, subscription, etc.
When is the best time to start monetizing your website?
You can start choosing a way to monetize traffic if:
You have decided on the theme of your resource.
Analyzed users' needs and interests.
Defined your target audience.
Made a content plan, which outlines dates for updating information, and adding articles to the blog. The regular content update should take place as part of internal optimization. Focus on competitors from the start so that your content is liked not only by the audience but also by search engines.
Worked on the popularity of the site using social networks.
Learn from the mistakes of others, communicate on forums with your peers, share experiences, read a lot, and stay up to date with trends and the latest news. Today, in paid and free access, there is enough literature on how to monetize a site. By studying forums and literature, and watching video tutorials on SEO, you can increase targeted traffic to your site without special knowledge and begin monetizing.
How to start monetizing the site
Before you offer ad space for ads coming from the Yandex or Google Adsense advertising network, you need to inquire about the requirements that you need to meet. It is difficult to please the search giants, and the "ban" will not work here. One of the parameters is the daily visits to the source. As soon as your site meets all the requirements of the advertising network, you can register, wait for the approval of the moderator and start making money on advertising on your website.
If you plan to sell the site, you need to make it as attractive as possible for the buyer. It is better to spend time on promotions and sell for a higher price.
Before you make money on banner ads or link placement, you need to find advertisers. If you have a promoted resource with good traffic, they will willingly accept your terms and even offer a partnership first. Sites with weak positions in organic search results and a small audience are also monetized in this manner, but you need to continue working on the promotion to increase traffic.
How to prepare your site for successful monetization
Monetizing your site with advertising requires time and investment. To bring traffic and earn the audience's loyalty, you need to invest in your source not only financially but also with your soul. You can pay for SEO promotion, and fill pages with quality content, but if you don't care about your visitors, they won't stay on your site.
Before you enable ads on your site, analyze how useful and interesting offered ads can be for your users.
Do not stop optimizing your resource, constantly work on improving usability, fixing technical errors, and updating content.
Take an interest in how to properly place ads on the site so that it does not annoy visitors.
Research the audience's interests to show relevant ads.
Choose the right ad placement.
You are reselling your traffic to other sites, and you must understand that people may not return to you. Therefore, choose advertisers and partners carefully. First of all, do not promote competitors. It's best not to place ads where the user's attention should linger, instead of being redirected to a different place. For example, you have added some very important news – let users first find out about it on your site.
When choosing a direct partnership with an advertiser who promises to pay a commission on sales, you must be prepared for the fact that sooner or later he may violate the agreement. This will not happen if you choose to monetize the site with a proven affiliate program 😉
How to choose an affiliate program for website monetization
Before you start driving traffic from your site to affiliate program offers, you have to choose a solid affiliate program. The CPA network should not only have many attractive and regularly updated offers, but also a user-friendly interface, acceptable payout conditions, responsive support, the ability to view statistics, and, of course, good reviews.
If users complain that the affiliate program is not honest with earnings or does not accept all traffic, you should not even try to work with it. The best affiliate programs, such as LosPollos, accept almost all (even mixed) traffic. At the same time, you can not choose a specific offer, but direct visitors to one link – a Smartlink.
Smartlink is a link that automatically selects the most relevant offer based on location, device type, network operator, browser, connection type, and other individual parameters. Thanks to the "smart" algorithm, offers will appear for those users who are potentially ready to click on the link and have a high probability of performing the target action.
In addition to directing to an offer, you can monetize traffic on your resource using push subscriptions. The more people on your site sign up for your newsletter, the more you can earn. Such monetization can be configured both in LosPollos and, for example, in TacoLoco or other push networks.
P.S. If you are just thinking about how to monetize traffic, start with the steps outlined above. The path from creating a site to monetizing it is quite a lengthy one. But the passive income that your site can consistently bring is worth it. The result always depends on how motivated the owner is and whether he is ready to make an effort. Make your site attractive to advertisers and determine which monetization method is the best and most profitable for you. And if you decide to make money as part of the LosPollos affiliate program, then welcome aboard😉
After registration, your account manager will explain in detail how to receive payouts, add a payment method, and will help you at every stage.