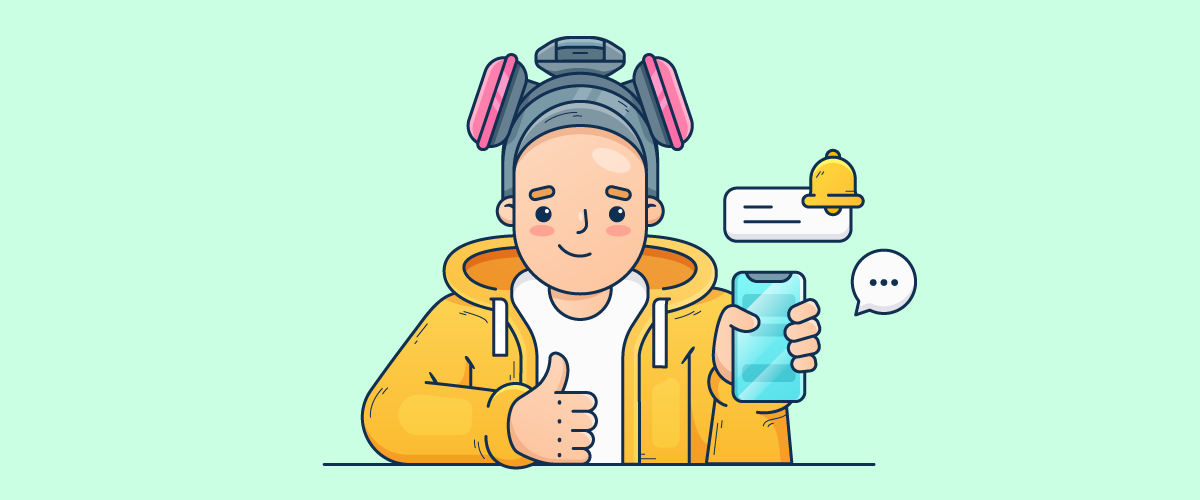 How to earn on push subscriptions and channel push traffic to make a profit.
Push traffic is a top source of income for website owners and traffic buying specialists. Do you still do not know how to channel it to different offers and make a good profit? Here we will tell you everything you need to know about earning from push notifications without a site or with our own platform. We will reveal all the secrets of channelling traffic to dating, betting and other top verticals.
Make a coffee and read all the way to the end.
What is push traffic?
Push traffic is generated using pop-up messages that appear when a site loads in a browser window and makes an unobtrusive offer to subscribe to updates. If the user agrees, they are registered in the subscription database and then receive push notifications.
This advertising format appeared almost 10 years ago, but when it comes to traffic buying, push buttons have been used for no more than 5 years. If you are a beginner, you will frequently see experienced affiliates expressing their opinions that that push traffic is a long-dead source. But reality has proven otherwise.
Push traffic is a good choice for both beginners and professionals. It's especially effective for certain verticals which we will talk about later. Affiliate partners are still sharing successful cases with push traffic. Which means it's worth paying attention to.
How users subscribe to push notifications
The base collection is more or less the same for all of them. Earnings on push subscriptions are made by placing a fragment of code on the site. Thanks to this code, each visitor sees a small subscription form when loading the site. If the user agrees to receive notifications from this resource, then they are registered in the database of the advertising network with the site owner is working with.
By subscribing to the push, the user interacts with the browser. The subscription process is encrypted with a special code and does not entail transfer of personal data to a third party.
After the user has subscribed to the push, they will receive notifications. It makes no difference whether he comes to this site again or completely forgets about it. The browser will send push notifications until the user cancels the subscription.
Thus, advertising networks collect a subscriber base, and then offers to buy push traffic for traffic buyers. Everyone's making a profit – the owner of the site, the network, and the affiliate partner.
How to earn from push subscriptions
You can earn money from push subscriptions in three ways:
1. Buy push traffic from push networks and channel it to a relevant offer or smart link.
2. Collect the subscriber base on your site by placing a push notification script in the code.
3. Independently collect the subscriber base (without your own site) and sell to the advertising network (usually by channelling traffic to a special link with landing pages).
What do push notifications consist of?
Classic pushes consist of:
thumbnail image – icons;
a short and catchy headline;
concise description of the offer;
links to source.
After the user clicks on the pop-up notification, they will be redirected to the landing page or prelanding associated with the offer. In advertising campaigns like these, the push serves as an enticing banner. Push notifications are visually different for mobile and desktop devices. For example, mobile pushes don't need a large image.
How to channel push traffic to make a profit
To get a good ROI, use the recommendations from our experts:
1. Divide your ad campaign into mobile and desktop
Mobile and computer users behave differently. Smartphone pushes are less noticeable than computer ones. In addition, there are different CPC for different devices. In general, the division of push campaigns will simplify optimization. You will find it easier to target different operating systems and other parameters which are different in mobile devices and desktop computers.
2. Test multiple creatives at the same time.
The more creatives you have, the higher the chances of finding a converting bundle. A single creative may initially be unsuccessful, but for the purposes of analytics, a single indicator is uninformative.
3. Place the accent on the icon and title
When creating creatives for push notifications and changing them when testing an advertising campaign, it's worth paying more attention to the icon and pop-up message title. The main visual can be seen by users by performing a push before clicking on the link.
4. Use prelandings
In order to warm up and increase conversion and earnings on push subscriptions, redirect users to a prelanding page.
5. Limit the daily number of views and clicks
At the start of a push campaign, 1-2 views per day are enough. This is enough for the user to complete the target action. If you don't limit these parameters, the user can click deliberately click without bringing conversion, and that leads to you exhausting your budget.
6. Make the most of the functionality of your network.
Set up a postback, use automatic optimization, and create white and blacklists. All these options help to optimize the campaign more easily and accurately.
7. Use as many settings as possible
Apply all possible filters, in particular technical ones: in terms of devices, OS, and browsers. If you work with different push networks, you will notice that the audience is different.
8. Change your creatives
Even creatives which demonstrated good conversion from the very outset have their own lifespan. The audience quickly tires of them, so you need to constantly change and test new creatives.
9. Contact your personal network manager
Your personal assistant will help you choose a promising offer. They will tell you how to work with it and give tips on how to channel push traffic to a profit.
10. Use smartlinks
Smartlink from LosPollos is a universal way of monetization. Send push traffic to one "smart" link, and the algorithm itself will distribute it to relevant offers.
What things affect earnings on push subscriptions
In LosPollos there is a whole sector known as — Push Monetization. You can both channel traffic to a special link, and place a special link on your site. 
In general terms, earnings from an advertising campaign with push notifications on your own site depend on the following factors:
daily visits;
relevance of the subject matter of the traffic source to the offer being promoted;
parameters of the target audience (GEO, gender, age);
presence of other advertising on the site.
In addition, earnings on push subscriptions depend on the payment model used by the partner or advertising network. The following elements are often encountered:
CPC (Cost Per Click) – a reward is provided for each click on an advertisement. The webmaster pays for advertising at the given rate of the advertising network. In turn they pay the site owner 90% of this amount.
CPM (Cost Per Mile) is the rate for 1000 views of an ad shown to users who subscribe to a push link. In this case, the traffic buyer can more easily predict income, but there are also disadvantages: you have to wait a long time until the number of views reaches into the thousands. In addition, CPM loses a lot of traffic due to subscribers who don't carry out the target action (i.e. don't click on the ads).
CPS (Cost Per Subscriber) – the payment to the site owner is charged once for each subscriber, and the user will receive advertising messages every day. This model is particularly beneficial for CPA networks.
The best verticals for push traffic
Users who subscribe to a push link are a completely diverse audience. It's impossible to predict the most suitable vertical. LosPollos experts have identified a number of top verticals for push traffic buying, which are worth paying attention to:
dating:
E-commerce
nutra;
gambling;
betting;
sweepstakes
adult;
finance
install (utilities).
As a rule, the best offers for earning on push notifications entail a simple target action in one or two clicks.
How to channel from pushes on dating
In dating offers, the target action most frequently entails the installation of mobile dating applications or confirmed registration on the site. Pushes can "land" at any moment, but in just a couple of clicks, the user can register on a dating site, even when travelling or sitting in the office.
Realistic photos of beautiful girls are normally used in order to channel traffic to dating sites from pushes. Creatives with invitations to meet and distance ranges – "Lonely beauty two kilometres from you wants to get acquainted" or "New message from Inna" usually work well. By the way, we recommend that you look at examples of pushes for dating.
How to channel to gambling through pushes
Before you channel to gambling through pushes, it's worth looking at the site tools. That's what our competitors do.
Spy-services are online platforms that contain all advertising campaigns that have previously been shown or are currently being shown on a specific traffic source (including pushes). These are useful traffic buying tools that let the webmaster know what his competitors were running and what results they had.
Converting creative push notifications for gambling must contain a loud or sensational header:
"We're having a draw today! Don't miss out!"
"A cashier won 5 million in the casino"
"Check your balance! $4500?!"
Use interactive elements when creating a landing page, and bonuses and storytelling in your prelanding. Stories that someone has won something and their life has been changed will always convert well.
How to channel push traffic to betting
A few more recommendations from our experts on how to channel traffic into betting from pushes:
use a link to the current event or a certain date – "Today only get a deposit bonus", "100% deposit bonus from November 2 to 10";
segment your audience by gender, age, and interests;
in your headlines, announce the "match of the century", promise bonuses from bookmakers, favourable odds.
Higher payments are envisaged in gambling and betting offers, since the target action here may be making a deposit. Getting a user to pay money is much more difficult than signing up. Accordingly, the funnel will be more difficult.
Don't forget that betting and gambling advertising are prohibited. In order to get traffic from social networks or contextual advertising, you need to have enough experience to get around moderation. Most of all we see cases of push traffic as one of the most optimal sources for such offers.
When choosing such verticals, focus on a Tier 1 and Tier 2 financially solvent audience. One effective way of warming up a solvent audience is by using a prelanding, but also in telegram channels. Before you start channelling traffic to betting or gambling from pushes, consult with your personal manager. They're always available on our platform;)
Successful cases on push traffic
Webmasters don't discard working bundles until they're finally burnt out, after which they willingly share the results of the campaign. Therefore, you can find successful cases with push traffic on the network. One of them was shared by the user of the TacoLoco push network, who channelled traffic to the LosPollos smartlink and achieved a ROI of 35%. You can read more about the campaign settings here.
Some people might claim that pushes is a long dead channel, while others continue to launch push campaigns and achieve a very good ROI. If we're talking about the prospects of this source, then everything is clear. Advertising networks are continuing to look for new sites to collect subscribers, and site owners agree to passive advertising income. As long as the subscriber base is "alive", the traffic buyer can make a profit. Our advice is this: it's definitely worth trying Pushes.
We are sure that by using our guide to earning on push subscriptions, you'll soon have your own successful push traffic case 😉