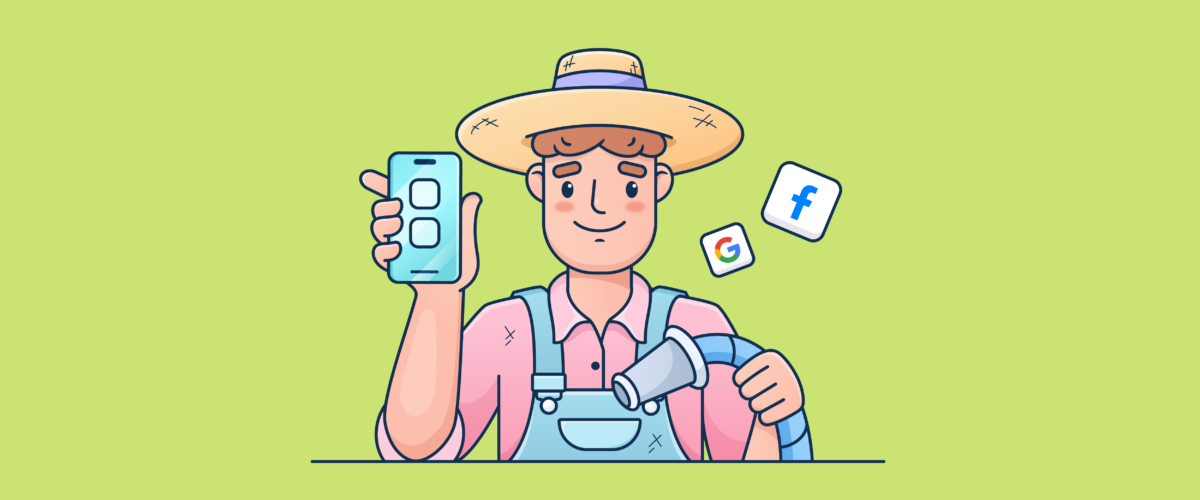 How to channel iGaming from ASO+Facebook apps 
If you want to work effectively with iGaming offers, you can do more than use the classical method of prelanding pages, you can also channel traffic to apps. Make yourself comfortable: in this article we're going to tell you everything, we'll show the nuances, evaluate the potential and give a lot of useful information.
Apps + Facebook
Channelling gambling traffic through apps is actually simpler than using classical approaches with prelanding pages. Let's look at the pluses:
Apps are both cloaks (since moderators and bots see absolutely "white" products) and stubs, because users are immediately transferred through the app into a gambling offer browser where they only need to register. This may seem difficult to novices, but in fact this scheme is much more simple than links with prelanding pages.
Even Facebook which regularly "throws spanners into the works" shows much more trust in WebView applications. Quite frequently it doesn't see anything suspicious in these products, since they are already integrated into the iOS and Android stores.
The channelling scheme itself is simple, and doesn't differ much even when being used on different advertising platforms:
you are buying, developing or renting an application;
you are sharing to your Ads Manager on Facebook;
you are launching an advertising campaign and selecting the "App installation" goal;
you are designing advertising creatives;
you are setting up a targeting campaign.
you specify a deeplink and all's done.
On Facebook, ad campaign optimization is much faster and more effective when working with the CPI payment model.
The most attractive thing of all is that users, who come here from apps, can and should be chased, returned and converted in a new way. If you've got a good app and a cool push, you can safely count on +30% to reg2dep and inst2dep. For comparison, when channelling through a standard scheme, a user performs a target action and this is where interaction with him ends.
Types of apps for channelling Gambling Offers
There are two types of app: PWA and WebView. From a technological point of view, they're different:
PWA (Progressive Web App) is, in fact, a mobile site, rather than a stand-alone app. Nevertheless, it has all the standard functions and attributes of standard mobile apps, so the user won't notice any difference from WebView. You can install PWA on any platform without channelling to App Store and Play Market, which a priori gives them superiority. You don't need a stub from moderation, because there's no threat of a ban. PWAs are completely independent of store policies, since they're located on independent landing pages with their own hosting services. So you don't have to worry about that the app might stop working.
WebView is a software product that only imitates a real app. A link that directs traffic to the landing page is integrated into it. So the app resembles a browser that opens one specific site with an offer. At the same time, the app not only loads content, but also adapts its format to a mobile device. There's practically no chance of the user accidentally reloading the page, go to another resource or simply click the wrong way. WebView actually resembles a game on a phone that needs to be installed, registered, and a deposit paid.
With WebView, you can avoid cloaks (developers accept this by default), but you need a stub from moderation. It's no easy thing to pass moderation in the App Store, since even "white" apps are often banned here. The WebView app market is crowded, but they are quite a few drawbacks. It used to be almost all apps were removed from the stores at the same time. That certainly wouldn't be the case with PWA.
Where can you get the app?
There are several ways to get a traffic channelling app:
Order it from a developer — for example, on a freelance exchange.
Do it yourself, if you've got the skills.
Renting an app is the most popular and easiest way. There are a lot of app renting services on the Internet.
You can use constructors for PWA applications. It will take only a few minutes to create a customized app with its own cloaking (you may also be interested in reading about doorway traffic), domain and white site generation, 100+ design options.
When you rent a WebView application, bear in mind that you're not the only person using it, and this reduces its lifetime. App renting services let you request a private app, but this is not always advisable.
Apps + ASO
An increasing number of webmasters today prefer to develop their own apps and even launch their own application development department for ASO traffic. 
The main objective for ASO is the growth of organic installs. This includes the entire set of actions aimed at increasing the attractiveness of apps in stores and promoting them to the TOP in basic key word searches.
Some industry representatives today consider that Facebook is oversaturated with advertising, competition is growing along with CPM. Even though traffic sources are seemingly limitless, Facebook is becoming more and more difficult to squeeze. There were times when affiliates could count on an ROI of up to 300%, now 100% is considered a good result. This actually is encouraging the creation of an internal department for app development and ASO.
Do I need to create my own ASO department?
Certain examples show that you can start up solo, provided that you have a minimum level of experience in ASO or app development. However, in the future, it will be very difficult to do it without the support of a team. The main items of expenditure are: department content (developers, designers, copywriters, ASO specialists), license, account farming, antidetect browsers, proxies, three "white" apps on each account and other expenses. So to make a serious start, you need to be backed up with a good budget, but over time, of course, everything will pay back. 
We don't recommend that beginners work with large brands such as Pin-Up and 1Win, since you'll find it quite difficult to collect traffic on them (and that's if you're not banned in the first three days). The algorithms of search engines and social networks are getting smarter every day. They quickly blacklist all brands which even slightly contradict their policies.
Examples of creatives under ASO
Apps that channel from ASO and Facebook are different. For example, here are two examples Glory Cazino brand apps:
Usually, a package of local language designs is created for each Geo. Here's an example of a description for ASO and Fb:
For comparison: an ASO description is much larger in terms of volume and contains basic and branded keywords. For Facebook it consists of a maximum of 50 characters and describes the substance of the app very superficially ("positive emotions", "real money", "slot", etc.).
Secrets of a high CR score
ASO traffic directly depends on the brand's media focus. The better and larger it is, the higher the LTV.
The second important point is that the more traffic you attract to a brand using company creatives, the higher the ASO indicators for that brand.
CAC (Customer Acquisition Cost) is reduced by 50-60% for ASO traffic in combination with Facebook traffic.
Reference to the offer should be trackable everywhere in the creative.
The design should correspond to the general theme and colour scheme of the brand, contain top slots and bonuses available on every Geo, subtitles, and logos.
You need to reference the brand several times in the creatives.
For example, the following creatives worked well for Glory Casino:
Take a look at the difference between the indicators of registered apps developed for a specific brand (upper screen) and the usual general thematic ones (lower screen):
Do I need to use pushes in iGaming?
Most players answer this question in the affirmative. "Pushing" users after installation, registration, and first deposit is best done in the evening. An example of such a creative:
When choosing a brand, it's best to rely on the diversity of Geo and its absence in stores. Don't look at the stores' TOP, but at user request statistics.
Conclusions
Although the topic of traffic buying using apps  began developing quite a few years ago, the market is still not overheated. You can experiment with ASO traffic on a modest budget, if you want. All you need is a developer account, an app, and a well-written description. However, don't harbour any illusions and be aware that it may be a long time before you make any serious success.
P.S. For the time being, this is all you need to know about channelling traffic to gambling offers through apps. Nevertheless, the topic is relevant and viable, and we still have a lot more to tell you. Follow the blog for updates😉
Time to start earning!