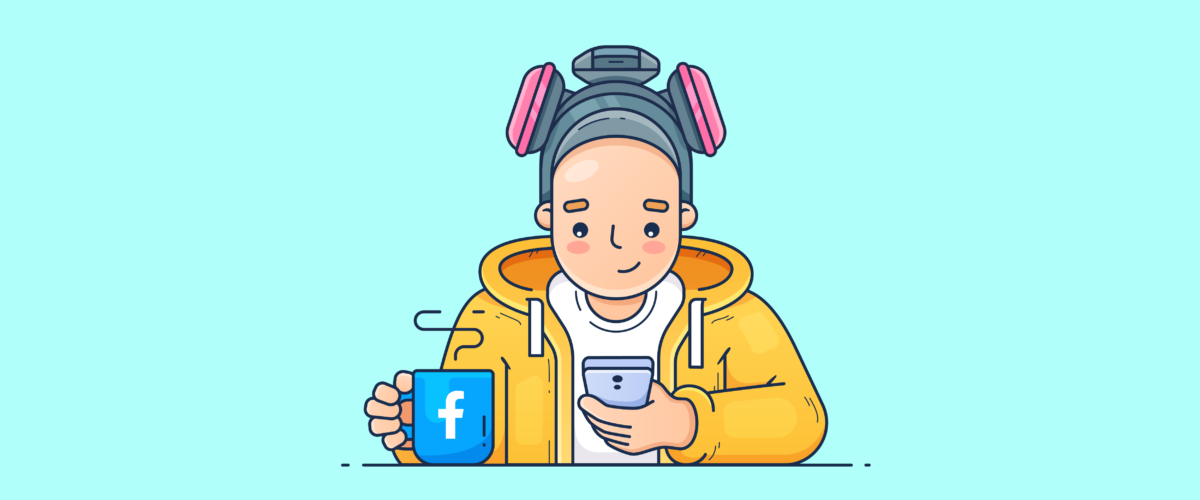 What is Facebook Accounts Farming?
For media buyers, Facebook is a large and profitable shareware resource. On the other hand, it's one of the most annoying. The further you go into it, the more new advertising requirements appear. However, you should not ignore this source just because of its strict moderation.
Today we will talk about farming, what it is, what it means to farm accounts, and whether it's worth it. Let's talk about how media buyers can avoid bans and how you can set up an account to squeeze the maximum out of it.
However, we have to state at the onset that all the information in the article is only for reference purposes. Algorithms change every day. Many of the strategies that work today may not work tomorrow.
What does accounts farming mean, and why do you need to do it
Accounts farming is a set of actions designed to simulate the activity of a real user. The aim is to win the trust of the anti-fraud system for the new page. Facebook is one of the largest platforms which use smart algorithms and full automation. Anyone using it for marketing purposes has to do what they can to avoid committing actions that will arouse the suspicion of robots and prevent manual verification of the account. The robot may not recognize it as an account for advertising purposes, but a live person will not make a mistake and will definitely block it.
For example, you've just created an account, and you placed an ad straight away. The system will almost certainly impose restrictions or block the account. In order to bring it back to life, you need to confirm your identity and provide documents. The more you pump up your profile, the less risk there will be of getting banned.
Farming is not the only possible algorithm of actions on the user's part. Webmasters try different ways of "warming up" accounts, after which the anti-fraud systems are constantly being updated.
What makes high-quality farming?
For a more extended account life, the system needs more time to identify violations in the actions of the trust account. Before the robots and live people realize what's happening, you can freely channel traffic.
Budget limits are higher – weak accounts can afford a budget of up to $50. By the time they get warmed up, this can increase to several hundred dollars.
Faster moderation – bots check ads on trusted profiles, but they can be tricked by cloaks.
Farming accounts are used not only when working with Facebook. It's viable – Vkontakte, Odnoklassniki, Instagram, and other sites where you can make promotions.
How to Farm Facebook Accounts
In general, there are two ways of farming:
you can register accounts independently by filling in all registration fields as much as you can, then simulating the behaviour of a standard new registration for a couple of weeks;
you can buy a ready-made approved Facebook account (the older it is, the more expensive it is) that has not been used too much.
The vast majority of webmasters choose the second method. However, some focus on self-creation.
There is no single algorithm. Instead, with experience, each webmaster has their own strategies and operating schemes that they consider effective and rational.
What do you need for Facebook farming?
Before starting to farm Facebook accounts, you need certain tools:
mobile numbers;
email addresses;
proxies;
anti-detect browser.
Proxy Server
Proxies provide anonymity to the account owner. The server takes specific parameters (including IP address and region) of the device and transmits them to the site – in this case, to Facebook. Proxies should be mobile or resident, not browser-based. They can be purchased from exchange markets or regional Internet providers. Crossovers between accounts are not allowed. One page – one profile – one proxy.
NB! Experienced webmasters recommend selecting a proxy server for the region where the account is registered. If you have to change it, get a new one from the same GEO. That means you can't register a profile with a Ukrainian mobile operator, for example, if you're in Ireland.
Antidetect Browser
Another way to trick the system is to use an anti-detect browser. In addition to the IP address, Facebook also tracks the device's technical parameters – from the type of video card and monitor to the software installed and cookies from other resources. The use of an anti-detect browser resolves these problems.
It sends fake user data to social networks. All you have to do is to enter the desired IP address in the settings using the proxy server address;
The webmaster can generate cookies independently. If Facebook detects you're logging in from a "clean" device, i.e., it won't find your visit history, it will immediately classify you as an unreliable user. The anti-detect browser stores enough fragments of information about resources, and you don't have to visit them.
You can change the technical parameters of the device. However, the system will become suspicious if your parameters combine with the data of recently detected violations. The anti-detect browser stores thousands of different combinations of monitor, video card, keyboard, etc. parameters and sends them to the social network instead of your real data.
NB! Before registering a new account and farming it, you have to change the device's time zone to the current one for the region where you've created the profile.
Mobile numbers and email addresses
NB! When you activate accounts, you need new numbers and email addresses which you haven't already used to activate pages on Facebook. However, this is all you need to get started with account farming.
Warming up Facebook accounts for farming
If you decide not to buy an account, but to register one yourself, here are some tips from experienced media buyers.
Go to Fb through the authorization form on a popular resource. For example, you're trying to access an "adult" trust site, and they invite you to register or log in through a Facebook account. Since you don't have an account there, you go directly to the registration page when you click.
Sign up on your PC with an anti-detect browser after you've "browsed" through the sites to collect cookies.
Create an account on your phone, then transfer it to a PC and "complete" it. This is the option that is used most often.
It doesn't matter what kind of Smartphone you have. However, there are nuances here too.
For example, with an iPhone, you have to return it to factory settings after each account. In Android smartphones, you need to clear the Fb cache and the caches of other applications that interact with it.
When you're equipped with the necessary tools, you can start creating and farming accounts on Facebook. Once you've completed registration, don't rush to upload posts and media files. You're here for the first time, right? Behave naturally – browse through the pages and navigation, and open the reference information.
Now, you can start warming up after a tour of the site.
After 4-5 days, you can move the page to a desktop device. At the same time, it's a good idea for the last day of account farming on your mobile device to coincide with the first day on your PC. Log in to Fb through the anti-detect browser profile using your login and password. Be prepared for the fact that the system may request an SMS confirmation. After authorization, continue to simulate a good level of normal activity: create fan pages, post, repost, and collect likes.
Warming up your account involves the following actions:
1. Loading photos
It's a good idea to use unique photos or create them using generator sites of realistic faces.
2. Profile Header Design
Here you can use any of the available templates.
3. Adding personal data about the location, place of study, and work.
It is important that the information corresponds to the region where the account is registered.
4. Searching for friends and followers
In the first few days, we recommend adding people who are recommended by the platform itself. Don't be in a hurry to add everyone at once. Visit their pages first to make sure you know each other. Start adding the friends of your followers later.
A tip from experienced farmers: leave no more than 30 requests per day (but not strictly 30).
5. Video and News Feed Vie+ws
Subscribe to several communities, leave comments, and put likes. Be active and natural.
6. Creating posts and fan-pages
It's a good idea to leave a few posts on your page, but always in the local language. Create a fan page on any topic, fill it with information according to the platform's recommendations, and collect responses. Ten likes are enough to reach a new level of trust on Facebook.
7. Linking accounts of other social networks
If you link your Instagram page to your Facebook profile (registered with the same email address and phone number) and post a few photos, this will also positively impact the trust.
Can I make money selling Facebook accounts?
If earlier you were "off-topic," then now, when you've realized the value of trust accounts, you've probably thought about making money off them. So let's calculate how much you can earn by farming accounts on Facebook.
Let's say it takes 20 minutes to register, upload a photo, and complete a profile. It will take one full 8-hour working day to create 30 accounts. Most likely, half of them will immediately get banned, so you'll have 15 pages. The cost of one account depends on the quality of farming, but on average, from $3 to $6. The ones where the ban has been lifted are more expensive. So naturally, this trend creates a system: Webmasters trigger Facebook to ban advertising activities, then work through the ban to get a more trusted account. The scheme is somewhat ambiguous, but it is worth knowing about it.
They use any channels to sell Facebook accounts: social network pages, their own website, or a telegram channel. So you can attract traffic from thematic communities, buy advertising on publications about affiliate marketing, media buying, and wherever there is demand.
General recommendations for the farming Facebook accounts
Now that you understand what farming is, all that remains is to give you a few suggestions. So, your Facebook accounts will "live" longer if you:
imitate activity as naturally as possible – read other people's publications, comment appropriately, and communicate;
use hashtags and geotags for posts and publications.
invite the friends of your followers.
use plug-ins for the first authorization;
leave complaints about accounts from recommendations or comments under publications;
use paid promotion for your own posts, which can potentially get a lot of reactions and comments;
Also, you should know what not to do when farming Fb accounts:
make changes to the profile settings on the day it's created and warmed up;
on the first day, fill in the account, and header, add an avatar, and post;
at any stage of account farming, you can make plenty of manipulations with the page;
monitor the action log.
Conclusions
We have tried to show the essence of farming and what the process implies. However, for professional account farming, the media buyer needs to learn to understand the details: rational selection of consumables and defining key services for registration and proxy connections.
In 2023, farming is not as easy as it was in 2019. Algorithms are changing, and the platform will "get smarter" right before our eyes, but it remains an attractive channel for media buyers. You just have to follow the changes and adapt.
Most likely, you'll learn to channel content from Fb by trial and error. But as the only traffic source, it's unlikely to bring you a lot of profit. If you want to get started quickly and earn money, choose push traffic, inpages, or popunders, and connect shareware in the form of additional channels. I wish you all profits 😉