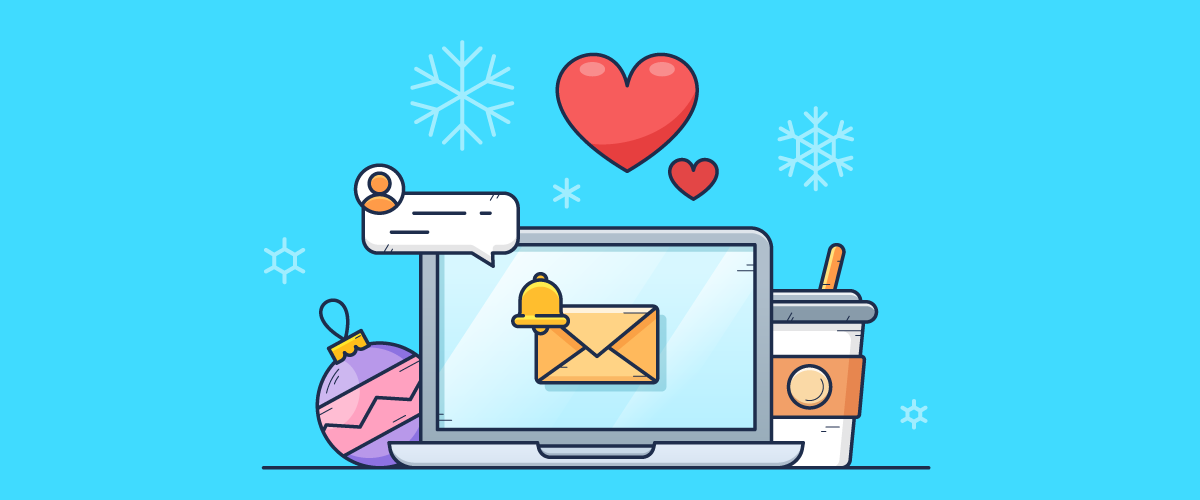 Types of Dating Offers in Affiliate Marketing
Dating vertical is undoubtedly considered to be the "evergreen" niche.
Even before COVID-19, people preferred finding friends through apps and websites, and after the pandemic, the growth rate of this vertical is breaking all records.
Are dating offers too complicated for an inexperienced affiliate marketer? After reading this article, you will better understand that you are already ready to start working with this niche.
We will also detail how to drive traffic to dating offers correctly, what they are, what GEOs are better to choose, where to get traffic, and why dating SmartLink is excellent for those just starting and already experienced affiliates.
Main Types of Dating Offers
Dating offers classification is necessary to promote them efficiently and rationally.
There are two main areas in this topic:
Casual – dating services where people are looking for a partner, friendship, and serious relationships. Many of these "white" resources are already popular and recognizable. Here people find each other by personal goals and interests, outlook on life, and religious beliefs. Some sources (Facebook, for example) may block such ads, but usually, there is no forbidden content in offers of these types.
Adult – the most popular dating affiliate vertical. These are dating sites or applications where people look for easy and frank communication, flirting, and relationships without obligations. This includes webcam portals, online games for adults (Adult Games), thematic areas (for example, same-sex relationships), etc.
By understanding the specifics of each dating offer type, you can accurately segment the target audience. However, creating creatives is often tricky. In particular, because it can be challenging to write attractive text for people with specific interests 😉
Use spy services where you can peep ideas on how to send traffic to adult dating offers from more experienced webmasters (but don't forget to make your creatives unique).
Payment Models When Working With Dating Offers
Most often, dating affiliates use the following payment models:
Cost per Lead (Pay per Lead). The easiest way to generate dating traffic is for SOI offers with a simple registration. But for DOI leads, payouts are higher since the conversion will be counted after the entered data is confirmed (the user will receive an email with a link to an email address or an SMS to a mobile number). For those new to dating affiliate marketing, we recommend starting with offers with a simple funnel.
Cost per Sale (Pay per Sale) is a fixed rate for purchasing a product or service.
Revenue Share (RevShare) is a percentage of income for each attracted user. Dating offers with RevShare payouts will not give the expected profit immediately, but they can bring a stable passive income in the future.
Cost per Install (Pay per Install) is a reward for installing the application.
Important! Read the KPI carefully when choosing an offer as sometimes, the conversion is counted not after installation but only after the application is launched for the first time.
Choosing a Dating Offer
If you decide to try making money on dating traffic, there are two ways.
You can work with a direct advertiser or an affiliate network that monetizes traffic.
The first option may seem to be the most profitable for a beginner. However, when working directly with an advertiser, you must be aware of the risk of being left behind. In this partnership format, profit shaving is common, but you are unlikely to win in a dispute with the owner of the offer.
It is much easier to monetize traffic through an affiliate network. Here you have a personal account manager who will help you choose an offer and guide you on how to promote it effectively. The best affiliate programs accept almost all traffic, allow you to track statistics, and regularly make payments.
The choice between a direct advertiser and an affiliate network would seem obvious enough with convenience and ease of use. However, LosPollos has an even more rational solution for those who want to send their traffic to dating: SmartLink.
Smartlinks is the perfect tool for beginners. A unique "smart" link algorithm determines the audience parameters without your participation and directs users to the most relevant offers for each. This means you can drive all the traffic to one link and sustain no loss to your budget.
We have both Casual Dating SmartLink and classic Dating direction. So do not waste time looking for a good offer. You can start earning on dating traffic right now!
How to Promote White Dating Offers
"White" dating offers are the standard services and resources for online dating. As a rule, they do not contain prohibited materials that moderators monitor. As a result, you can get traffic for such offers from almost any source. Not suitable, perhaps, contextual advertising as it is forbidden to promote dating sites on Yandex.Direct and Google Adwords.
Let's focus on the most optimal channels for casual offers.
Social networks – here, you can run paid targeted advertising or attract bloggers. It is also possible to get traffic on social networks for free by using spam in direct messages and comments on other people's accounts. Of course, following and liking the accounts of the target audience still works well. As for Facebook, you have to use cloaking.
Advertising networks – here, you can buy inexpensive traffic from push notifications, natives, and popunders. Pushes look like a new message, delicately popping up in the corner of the working browser window, which brings lots of traffic.
Email mailings still work and are free of charge (if you do not involve additional services).
Mainstream offers convert well, but the profit amount largely depends on the dating traffic source. Therefore, evaluate the expediency of traffic flow from a particular channel to reach a high ROI and not remain in the minus.
How to Promote Adult Dating Offers
Promoting offers from the 18+ category and adult dating is much more challenging. Most sources do not allow adult ads. In addition, there is serious competition here, but you can still make good money with these offers, as conversion and payouts are higher than in "white" dating offers.
So, to promote adult dating, the following methods are used:
Social networks – to bypass moderation in social networks, you will have to farm accounts and apply cloaking. You will have put in a lot of effort, but the result is often worth it.
Adult content sites – intimate goods online stores, adult sites, thematic information portals, and forums. Here you can place ads both for money and for free.
Online games 18+ – here, you can also place ads for a fee, but moderately explicit.
Voiceover and film translation studios. Usually, they don't take much money for an affiliate link placed in the comments.
Webcam portals – you can negotiate with popular models about advertising an adult source directly.
Teaser networks – a lot of cheap traffic can be sent to adult offers.
Pushes and inpage pushes – small pop-up notifications still convert well, but to send traffic to adult resources, you often need to use a pre-lander.
Over time, you will learn how to bypass moderation deftly, find working bundles and creatives that convert and implement your strategies. In the meantime, having a very modest budget and experience in affiliate marketing, try to drive traffic to dating offers from shareware sources or advertising networks that offer inexpensive and high-quality traffic from popunders, clickanders, pushes, inpage pushes.
How to Increase CTR for Dating Offers
The strategy for promoting dating ad campaigns depends on the traffic source. For example, methods that bring more clicks from push notifications do not work in teaser networks, and in social networks, they may be banned altogether.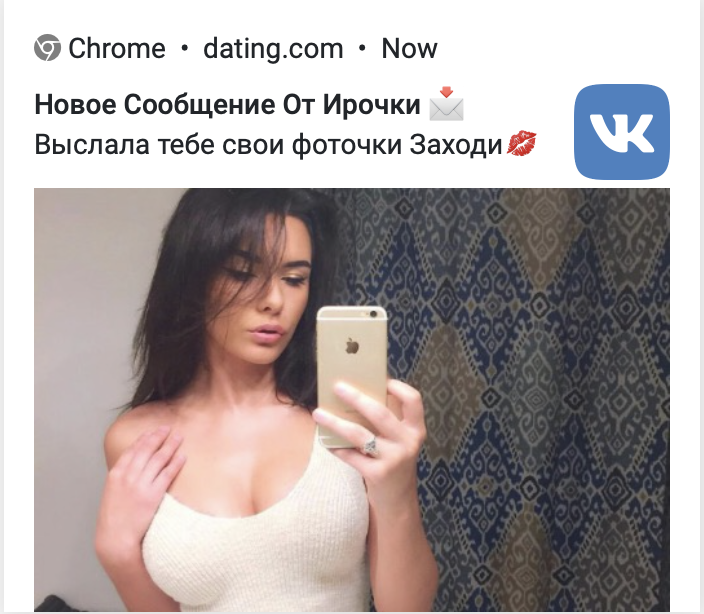 Push notifications remain one of the most straightforward advertising formats for dating. However, for them to show a high click-through rate, when setting up this tool, use the following recommendations:
For push notification creatives, use realistic photos and concise, enticing text: "a divorced woman 2 km away from you is feeling lonely", "5 girls are looking for a hookup in your city", etc. The same approach works in push notifications for adult offers. However, the photos should be more explicit.
Make ads as similar as possible to an incoming message from a social network or a popular messenger. To do this, use accurate icons and text that mimics the message: "Hello! Do you want to meet?"
Do not copy photos that your competitors use in their creatives. It is unlikely that a user will click if they receive different messages from the same person.
If you are imitating a personal message in a push notification, using the same or similar photos in the landing / pre-lander is important.
Use the target audience's weaknesses in the text: "Are you lonely?", "Do you want to chat?"
Test creatives with the same photo on the icon and main visual. Users on mobile devices do not see the main visual, but will still be able to see the photo.
Use local language in creatives and landing pages. Even in Europe, English is not understood in all regions. When working with multilingual GEOs, browser language targeting will help (if the ad network supports such settings).
Utilize dates and events, for example: "Looking for someone to celebrate the New Year with?" Select here!", "Valentine's is soon. Are you single? Your soul mate is here!
Change creatives. Even those that showed excellent click-through and conversion "burn out" sooner or later.
Webmasters' Mistakes When Working With the Dating Vertical
Pre-landers that are too long. If a person clicks on an ad, the user wants to meet a girl, not answer questions.
The belief "the prettier the photo, the higher the click-through rate" is wrong. Creatives with realistic girls whom every man has a chance to meet are much better. The same goes for the female audience.
Wrong choice of the offer. It makes no sense to send traffic to popular dating sites. They are already getting a lot of traffic from different channels, and the risk of wasting the budget is too high. It is also not worth sending traffic to unknown resources – they may be unpromising. Instead, give preference to relatively new sites that are currently actively developing.
Use of other people's creatives. Parsing competitors, spying on converting links, and taking ideas for creatives are good. However, copying other people's creatives that have already been on rotation and might have maxed out the opportunity to convert well is a bad choice.
Conclusions
The dating vertical is exciting and promising. There are many competitors, but there is a place for everyone. We told you how to send traffic to different types of dating offers. You can now start searching for an offer, choosing a source, studying the target audience, and everything we have taught you today. Or start earning right now by using a unique SmartLink from LosPollos that will do all the work for you 😉