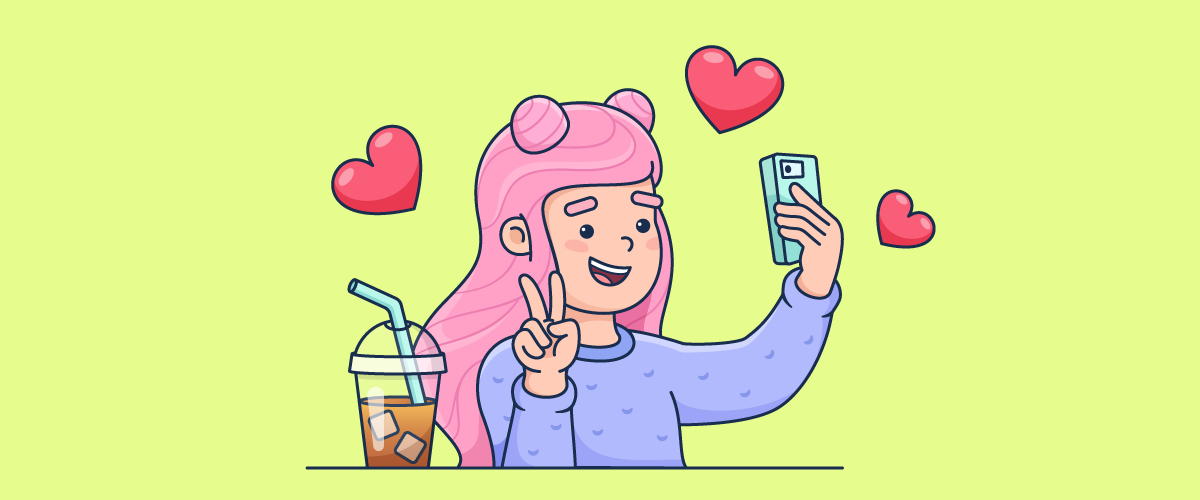 Tik Tok Trafic Affiliate Marketing – Cases and Secrets
TikTok appeared in the social media market in 2017 and quickly gained popularity around the world. The app is dearly loved by bloggers for its free impressions, rapid audience growth, and the ability to promote almost any category of goods and services.
In this article, we will talk about the features of organic and paid targeted advertising on TikTok.
How much user traffic goes to Tik Tok
So far, all users who set up ads on TikTok do not need to pay anything. The principle of operation of this social network is based on recommendations. What kind of content will be placed in the user's feed is determined by the ranking of the video. Simply put, if the video gets the coveted likes, then it automatically continues to be promoted. The more impressions, the more views, and reactions (and vice versa). This is how individual videos get millions of likes and tens of millions of views.
"By the end of last year, TikTok's monthly active users exceeded the 1 billion mark. The site took 7th place in the TOP of the most popular social networks in the world and consistently holds leading positions among the most frequently downloaded mobile applications on Google Play and the App Store."
By the way, TikTok's audience does not consist of only teenagers. Contrary to stereotypes, statistics give the following figures: 43% of users are young people aged 13 to 17 years old, and 21% are adult users from the category from 25 to 35 years old with almost 60% of the audience being women.
With traffic redirects coming from TikTok, affiliates are more concerned about the solvency of users. But even with such indication, everything is quite promising with this platform with more than 60% of users having an income above the average. This "ground" is very favorable for promoting offers, therefore inspiring webmasters to continue to use free traffic from TikTok as one of the affiliate marketing tools.
How to grow your TikTok?
The success of an advertising campaign depends on the right choice of offer and promotion strategy. To send traffic from TikTok to CPA networks, you can choose partner offers for any vertical. Most often the following verticals are used with TikTok:
Dating – to get a profit, just attach a link to your profile and create creatives with attractive girls. By the way, Mainstream Dating offers on TikTok work better than Adult Dating.
Adult – these are offers from the 18+ category. Of course, direct creatives for this category are prohibited.
Betting – this vertical usually uses discussions of upcoming matches with a mention of the possibility of making money on bets, as well as creatives depicting a luxurious life.
Gambling – visualization of the process of playing at an online casino and demonstrating emotions from winning work very well here. To promote gambling offers on TikTok, are also commonly known as "working" earning schemes and encourage users to get easy money.
Nutra – products for weight loss and personal care work great in "before and after images" creatives. Please note that fragments with large areas of skin are more likely to be blocked by the platform.
"Keep in mind that paid ad creatives must comply with TikTok's policies. Most likely, you will have to farm accounts, and for this, anti-detect services, email addresses, and a lot of time will come in handy."
If you plan to develop your own account and receive free traffic, follow these recommendations:
Find your target audience. It is not enough to consider only gender, age, and GEO. You need to identify interests that are influenced by many factors (ideas, beliefs, subculture, etc.).
Analyze content. This will help produce effective creatives. Knowing what content your audience is currently interacting with makes it easier to connect and build trust. Take a few typical members of your target audience and research their subscriptions.
Identify trending hashtags. This can be done on the TikTok Discovery page or by using the search tool on the platform.
Attract users from your target audience. If you've gone through the previous steps, now is the time to join the conversation with your potential users. We will discuss more on how to draw attention to your content and get reactions a little later.
Reply to comments. Interaction with the audience is of great importance.
How to get organic free traffic from tik tok
In 2022 Affiliate Marketing via TikTok suggests two options: launching advertising through the TikTok Ads account and seeing organic traffic. Or, you can work with verticals that will not pass moderation with paid advertising settings, and receive traffic for absolutely free.
At a time when business owners, advertisers, marketers, and affiliates are gradually forgetting about Facebook and Instagram organic traffic (in favor of targeted advertising), TikTok makes it still possible to use this method of traffic generation. All that is required from the advertiser is high-quality, interesting, and relevant content. If the "test" users see the video, then TikTok will show it to tens and hundreds of thousands.
The results of Harris Poll research showed that at least 48% of users, after viewing ads on the TikTok social network, completed the target action. Another 47% bought a product (service) relying on advertising from an influencer.
So, to promote a TikTok account, you have to work hard. Gathering an active audience is not easy. Hoping that the first hastily edited video will bring a lot of traffic is naive. Getting organic traffic through TikTok is just as difficult as pushing the limits of any other source.
Due to the specifics of the social network, many affiliates were able to attract a lot of leads to their offers using the following tools:
Videos
Using TikTok for affiliate marketing, you will have to create video ads that encourage users to click on the link. At the same time, the platform operates on a system of recommendations that do not promote the increase of the subscriber base. They will still be given ad impressions on TikTok if the audience is interested in the video. Here, affiliate marketers face difficulties in getting views, since the algorithms do not allow posting the same content on the platform multiple times. Recently, the TikTok community has been discussing the trend toward refurbishing the same creatives and making them unique. For example, you can mirror, apply noise and apply other effects by running the video through basic photo and video editors and other services.
"Mass following" and "mass liking"
One of the easiest ways to attract attention on a social network is to massively follow and react to other people's content using specifically designed for this services. The user will be notified of following and liking actions and will likely be interested in their source (that is, who liked or subscribed to their account). The user might take a similar action in response.
Remember that all platforms try to fight mass following and mass liking by setting limits. To date, there are restrictions of up to 500 likes and 200 subscriptions per day.
Spam in comments
You can put links in the comments under popular videos, motivating users to click on them. Such videos, as a rule, have a very active discussion, therefore, to attract attention to a comment with a link, the number of likes is boosted manually or with the help of specifically developed for this services (by the way, SPY services will also be useful for affiliates). However, there is practically no worthy software for TikTok affiliate marketing today.
In order to get video ad views on TikTok, the webmaster must:
come up with a catchy title;
make sure that the audience watches the video in full;
as easy and accessible as possible for a clear statement as to why the user needs to click on the ad;
test creatives, look at other webmasters, and refine them.
We recommend uploading at least 3-4 videos at once, then, choosing the most popular of them, and 4 hours later to request comments activity for this video. There are many services available that can perform such a task.
Please note that if you use a pre-lander (say, in a Telegram channel), then the last post should be dedicated to the same product that is being promoted in the video content. Firstly, this way users do not have to search for a product or service, and secondly, if the content interests those users, they can subscribe to the channel and make purchases in the future.
Targeted advertising on Tik Tok – is it worth it?
There are several options available when it comes to paid advertising on TikTok:
collaborate with bloggers (you don't even need to register an account for this, many bloggers indicate contact details for all future partnerships);
use TikTok Ads;
create an agent account (you cannot do this on your own – only through reseller companies that create these types of accounts and sell them for a percentage of the first account balance refresh).
The latter method provides enhanced opportunities with TikTok for affiliate marketing as targeting allows you to accurately hit the target audience. Moderators are more lenient to agent accounts, on top of that you can work with GEOs that are not available to an average user. Also, you can be the first to use new features and tools for content creation. For example, Super Like 2.0, Gesture Ads, Pop-Out Showcase and others. These options are suitable for those who work with large budgets – from 1 million rubles (USD???).
Collaborating with bloggers will be much cheaper: from one to several tens of thousands of rubles. But to launch affiliate marketing advertising on your own using TikTok Ads costs will cost you anywhere from 5,000 rubles and above. This is a very convenient way to promote your TikTok arbitrage video.
The social network offers several formats of paid advertising:
TopView – the video starts as soon as the TikTok app is opened and lasts up to 1 minute.
Brand Takeover – showing an advertising banner when the app is launched.
In-feed Ads / Native Video – used most often. Here the video is playing in the feed for up to 1 minute, it can be commented on, and liked.
Branded Hashtag Challenge – the banner is located in the search section of the app and has its own unique hashtag, which reveals the conditions of the challenge. With this hashtag, recorded videos are usually used.
Branded Effects – various special effects for video content.
Please note that only one advertising format can be used through the TikTok Ads account – In-feed Ads / Native Video. To run ads in a different format, you need to contact the administrator.
How to Create a TikTok Ads Campaign
Go to TikTok Ads Manager and select Create new in the "Campaign" section. Switch to custom mode and select the goal of the advertising campaign.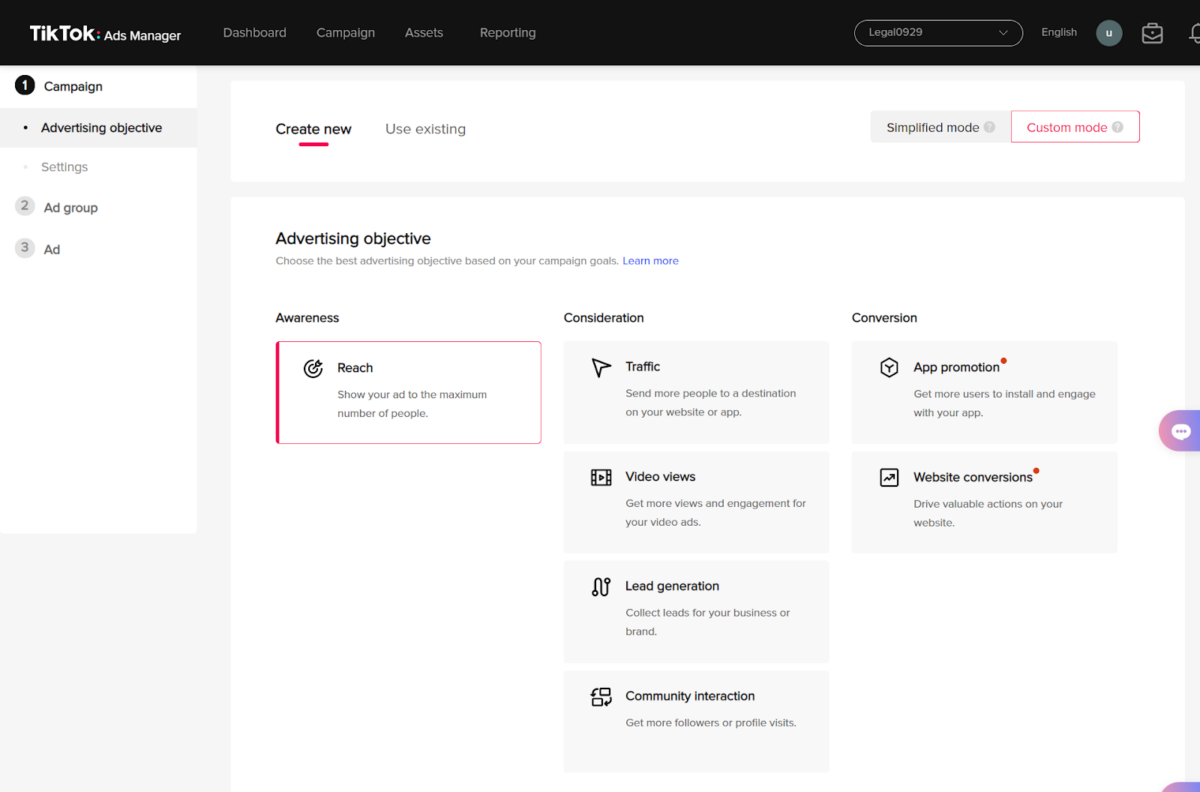 Next, go to the settings of the advertising campaign.
Enter the display settings for the ad group: display frequency, budget, and targeting.

Now let's move on to creating an ad.
Don't forget to add a tracker and set up event tracking on the site and in the app.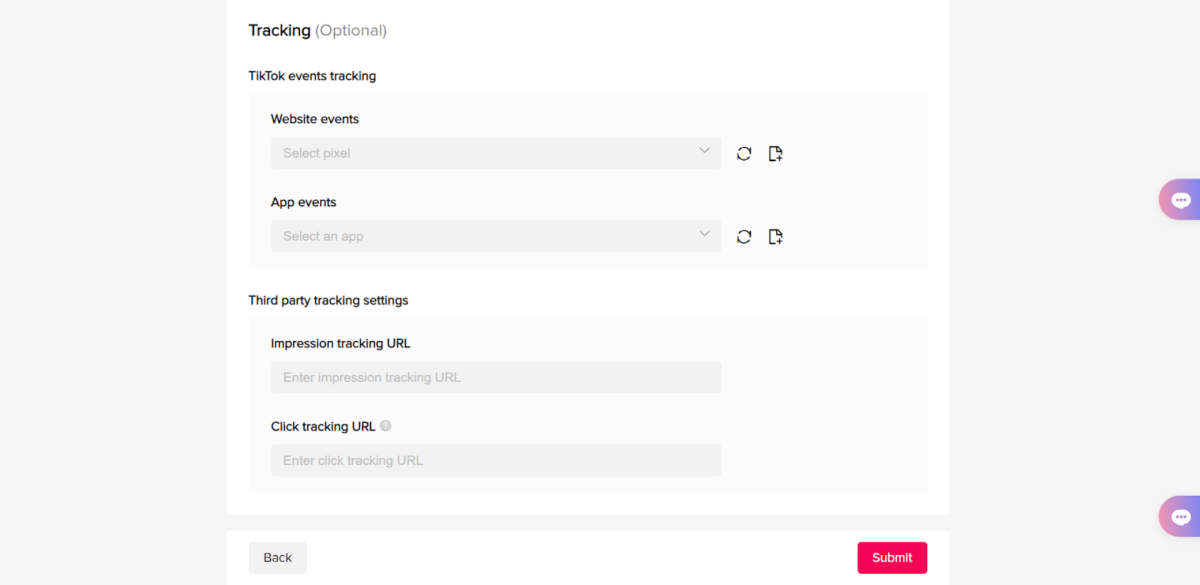 Successful Tik Tok Affiliate Marketing Cases
To date, there are not so many successful cases of affiliate marketing working with TikTok traffic. But this does not mean that the platform has not justified itself as a source of traffic. As a rule, the social network is mentioned indirectly and very reluctantly. But only because webmasters are not ready to share working links. Judging by how often advertising of affiliate links is found on the social network (and here is an article about making money with affiliate programs), the platform is actively used by many affiliates. Promoting a product from Amazon with the help of videos with product reviews, transferring organic traffic to gambling through TikTok, attracting an audience to dating sites using a well-built funnel – all this brings profit.
P.S. The social network TikTok is a lively and promising source for affiliate marketing. Many of our webmasters successfully use the site and drive traffic to different directions using our SmartLink (read more about SmartLink and its function in CPA here). Our algorithm will select the relevant offer for your traffic. If you accurately present information, carefully research and analyze competitors, effectively build funnels, and take care of your audience, all investments in this source will be justified 😉