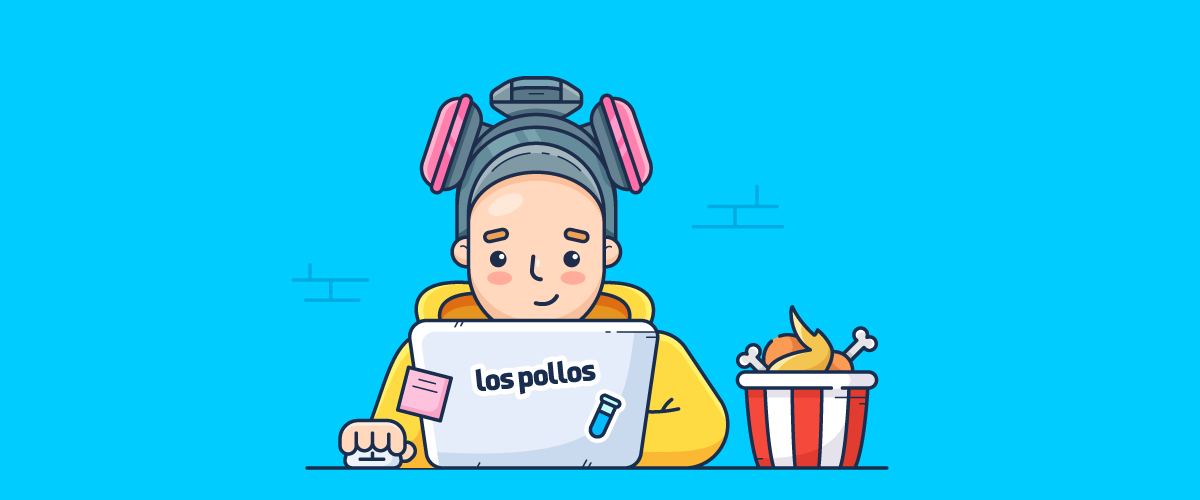 How to start earning with LosPollos?
If you are reading this, then you probably want to register (or have already registered) with LosPollos.
To make it easier for you to navigate, we have prepared a special memo with basic questions and terms.
You will find out more about our services, what verticals we have, and how much you can earn with our help.
1. How do I get started with LosPollos?
We offer three options that will allow you to earn on traffic:
Get a link from the manager for the topic you are interested in and start sending traffic to it. When clicked, a smart algorithm shows the user only the offer that is most likely to be of interest to him. The method is suitable for both beginners and experienced webmasters.
Monetize traffic on push subscriptions. This is particularly applicable if you own your sites. It will be enough just to place the code on your site or get a special link to send traffic to it.
Monetize on trafficback. This is relevant if you have any residual traffic left. Suitable for experienced webmasters who already work with affiliate programs or direct offers.
2. How much can you earn with LosPollos?
Many of our affiliates earn over $5,000 per month and there is no upper payout limit. But it is important to understand that the amount of income directly depends on the quality of traffic and conversions. On average, with good traffic sources, the payout per 1,000 impressions for Switzerland, for example, can easily be over $60.
In the beginning, we advise you to focus on achieving the minimum payout amount ($100) and scale up successful bundles in the future.
3. Glossary of the most commonly used concepts related to working in LosPollos
Available verticals
Dating – dating, and adult dating 18+.
Casual Dating – the most accurate pre-landers.
Gay Dating is a SmartLink dedicated to same-sex relationships.
Mainstream – sweepstakes, and draws.
Adult Games – games from the 18+ category.
Crypto – working with cryptocurrency.
Gambling – online casino, poker.
Cams – webcam offers for an adult audience.
Male Enhancement – dietary supplements and means to increase male strength.
By the way, we have a useful article about what sweepstakes are and how to work with them – it describes in detail how to make money on sweepstakes, what they are, and why affiliates like them so much. And if you decide to make money on crypto offers, you can find out how to do it right here.
Payment models
CPA (Cost Per Action) – payment for action. A generalized term, depending on the action performed by the user on the advertiser's website, the CPA model has varieties:
CPC (Cost Per Click) – pay per click on an affiliate link or banner.
CPL (Cost Per Lead) – rate per lead (data that the user leaves during registration – name, email address, and other contact details);
CPD (Cost Per Download) – a reward for user downloading a file;
CPI (Cost Per Install) – payment for the user installing the application;
CPS (Cost Per Sale) – the rate is charged if a user has paid for the service on the advertiser's website (VIP status, advanced functionality, access to additional features);
CPR (Cost Per Registration) – payment for each registration on the portal or in the game.
CPM (Cost Per Thousand) – the rate for 1000 impressions, clicks, views, and other actions, but is most often applied to ad views and clicks to the site.
CPO (Cost Per Order) – a fixed fee for each order, regardless of the cost.
CPV (Cost Per Visit) – payment for viewing a video or banner by a user.
RevShare (Revenue Share) is the percentage of revenue that an advertiser pays to an affiliate. Unlike CPS, with RevShare affiliates' income depends on the cost of the service.
Types of CPA offers
SOI (Single Opt In) – affiliate offers that require at a minimum user's data (name, age, gender, email, phone number) without confirmation.
DOI (Double Opt-In) – offers in which the lead will be counted only after the confirmation of the data (the user must follow the link that will be sent to the email or enter the code from the received text message/SMS).
Incent – offers in which the advertiser allows the use of motivated traffic (users who have completed the target action for a reward).
Non-Incent – offers that accept only high-quality and well-motivated traffic – these offers are prohibited.
CC-Submit (Credit Card Submit) – the conversion is counted after entering credit card information and debiting funds from the user's credit card.
PIN Submit – the user must subscribe to a paid newsletter by confirming the PIN code from the received text message/SMS.
Email Submit – you must enter an email address in SOI or DOI format (with or without data confirmation).
Lead Gen – the affiliate will receive a reward after the advertiser receives a lead according to the CPL model.
Sell ​​Gen – payment will be credited upon sale in CPS format.
Survey Completion – payment is made after the questionnaire is correctly filled
Metrics used to evaluate the effectiveness of an advertising campaign
ROI (Return on Investment) – an indicator of return on investment, helps to evaluate the profitability of advertising and is calculated as the ratio of the profit from an advertising campaign to its cost.
CTR (Click Through Ratio) is a clickthrough rate, calculated as the ratio of the number of clicks to the total number of ad impressions.
EPC (Earnings Per Click) – the income of a webmaster or affiliate from one click, calculated as the ratio of total income to the number of clicks for a certain period of time.
Conversion (Conversion Rate, CR) is an indicator of the effectiveness of an advertising campaign, calculated as the ratio of the number of users who completed the target action to the total traffic for a certain period.
Other relevant terms
Affiliate marketing is a tool for promoting a business online by attracting customers through partners.
Affiliate Program (AP) is a format of interaction between a business owner and partners (affiliates) who attract the target audience for a fee.
Offer – an offer from the advertiser, which details the terms of a partnership.
Affiliate network (CPA-network) is a site-aggregator of affiliate programs, an intermediary between the advertiser and partners – affiliates, webmasters, and resource owners.
Lead is a potential client, a user who reacted to an advertising campaign or performed a target action (subscribed to the newsletter, left data, made a purchase, paid for a service, downloaded an application, etc.).
Vertical (niche) – the thematic direction of the offer. Each niche combines several offers that meet the specific needs of the audience.
SmartLink is a link to which all traffic is sent and then distributed among the most relevant offers.
Click is a user action to move from the pre-lander to the offer page.
Hits – click on the affiliate link and transfer to the pre-land page.
Uniques are unique users who clicked on the affiliate link and went to the pre-lander.
Hold — a waiting period when the advertiser checks the quality of the traffic, and the PP counts the lead.
Postback – a collection of statistical data on the results of the campaign by transferring indicators from the affiliate network to the tracker.
Profit – net profit from an advertising campaign.
Approve — the number of leads accepted by the affiliate.
Push – push notifications in the form of pop-up windows with attractive content.
Referral System is synonymous with affiliate marketing, a form of partnership between the advertiser and affiliates to attract new customers and increase profits.
Cloaking is an illegal method of promotion that consists in redistributing incoming traffic. Crawlers (search robots) and moderators of the CPA network see a page that fully complies with the requirements, and users get to a page that contradicts the rules but gives a better conversion.
Cookie Stuffer – placing cookies into the user's browser. Another "black hat" method that is successfully used by unscrupulous affiliates to get a reward for those clients that the affiliate did not attract.
Fraud – ways to imitate the actions necessary to fulfill the requirements of the advertiser (clicks, bots, invisible ads, etc.).
Landing Page – landing page, the purpose of which is to bring maximum conversion.
S4S (Share for share) is a way to promote on social networks when two users leave each other profile reviews.
SCAM is an online fraud scheme in which an investment project is closed and the payment of obligations to investors is stopped.
SEM (Search Engine Marketing) – marketing activities in the search engine. Unlike SEO, paid advertising is taken into account here.
SEO (Search Engine Optimization) is a set of actions for promoting a website in the search results within the framework of organic search. There are white, black, and gray (combined) methods of SEO optimization.
SERM (Search Engine Reputation Management) – actions aimed at improving the reputation of the brand by crowding out negative reviews from search results.
SERP (Search Engine Results Page) – search results, that is, a page that was generated by a search engine in response to a specific user query.
Spam is a mailing list containing advertising content to which the user has not given consent.
Viral – viral content that encourages users to continue sharing it further.
4. Is investment required to start making money online?
To monetize traffic with LosPollos, paid and shareware sources are used. As a rule, experienced affiliates buy traffic more often because they already have some experience, working bundles, and are not afraid to lose some of their budget. Beginners can try shareware sources – social networks, email newsletters, thematic forums, or their sites. Usually, the starting budget with any traffic exchange program starts at $100 and scales up further when a successful bundle is found.
5. What kind of traffic do we not accept?
We do not accept motivated traffic – that is, not a high-quality audience that makes hits and imitates activity on the site for a certain reward, as well as chat-bot traffic (spam robots).
Also, you cannot use email spam. The exception, in this case, is the "white hat" email Opt-In, where users voluntarily subscribe to the mailing list and have the opportunity to click "Unsubscribe".
6. How are payments made?
You can withdraw your earnings from LosPollos every week. For the period of Monday to Sunday, income payments are made on Tuesdays from 16:00 to 24:00 (UTC+3) (if it has reached the minimum threshold of $100). We make deposits to:
perfect money;
capitalist;
Paxum;
Bitcoin (commission for cryptocurrency withdrawal is 4%);
bank transfer (minimum withdrawal amount is $1000).
Please note, that to withdraw funds, payment details must be linked to the registered LosPollos account. Before your first withdrawal transaction, you should contact the Support Service to save this information and use it for subsequent payments.
7. Do you need special training?
A newbie often faces the question of whether to spend money on an affiliate marketing training course or to buy traffic to immediately begin driving traffic to offers offered by affiliate programs and learn with practice. It all depends on your starting level. The Internet offers a huge amount of free theoretical and practical materials. Regardless of the cost of the course, no training program can guarantee a quick and high income. Only a few of the graduates of online schools and courses do not go astray and become professionals as their success is more dependent on applied practice.
With LosPollos, each user has an account manager that is assigned to them, who can be contacted for help.
8. Why is there only one link in the Smartlinks section?
By default, users are hooked up to the Dating vertical, and with the help of an account manager, you can add other directions.
Today, the following verticals are available with LosPollos: Dating, Casual Dating, Mainstream, Crypto, Gambling, Cams, Male Enhancement, Adult Games, and Gay Dating.
9. Why are there different payment amounts received for one country?
Many factors affect the cost of a lead: device type, operating system (OS), browser, user uniqueness, and other factors. In addition, rates can periodically change on top of that, there are often several offers available for one country.
10. Is statistics displayed in real-time?
The data with LosPollos is updated every hour, so you can track statistics in real-time. The main page shows the number of clicks, conversions, your income for each vertical, and which countries convert better. In a separate tab, you can see a more detailed report on days and periods, countries, tracker, SmartLink.
P.S. If you have any questions, feel free to ask your account manager. Stop doubting, and start earning with LosPollos today! We are always ready to help you monetize your traffic;)