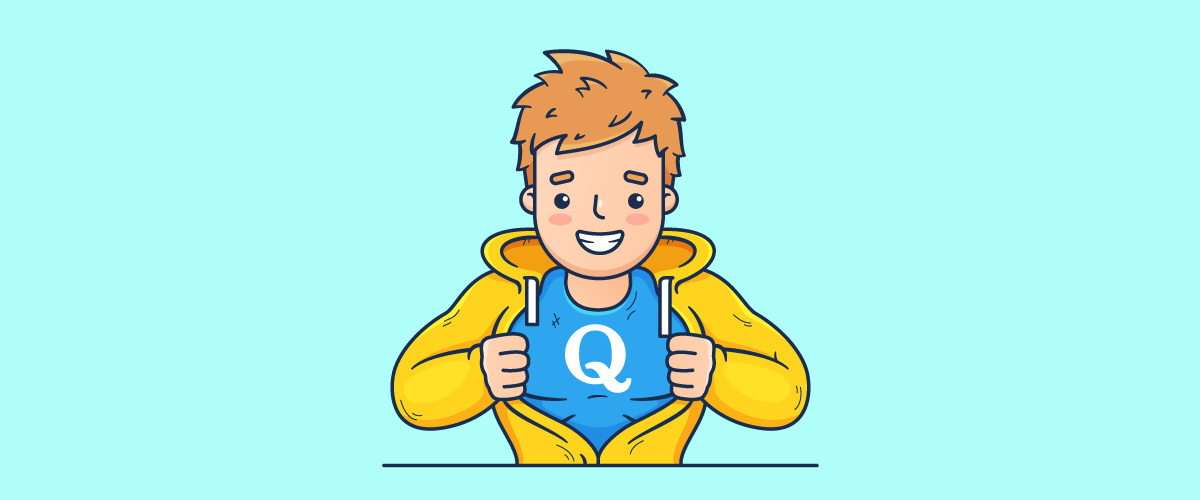 Affiliate Marketing and Quora 
Quora is the largest international online marketplace where users can get answers to any questions from experts and people who are ready to share their personal experiences. Google Trends data indicates a steady growth in the project's popularity, which means it is worth paying close attention to now before competitors do.
Buckle up if you are wondering what Quora is for an affiliate marketer. We will tell you if it makes sense to work with this source and share experts' tips.
What is Quora
The information platform was created in 2009 and was initially used exclusively in Silicon Valley. However, Quora soon became world famous for its valuable and detailed answers to any question. And since 2016, the developers have provided the opportunity to run ads on this platform if it is valuable and relevant to the user's request.
By subscribing to push notifications, the user interacts with the browser. The subscription process is encrypted using a unique code and does not involve the transfer of personal data to a third party.
For Quora users, this is an opportunity to share knowledge, hear an expert's opinion, use someone else's experience, and share your own. Such resources with questions and answers are a cross between social networks, forums, and review platforms. The topics covered are very different – from the secrets of happiness in personal life to the global problems of modern society.
For an affiliate marketer, the Quora website is a way to attract traffic, including free traffic. Here you can increase brand awareness, natively promote offers from various verticals, and promote your own website. Affiliates who cannot afford to get traffic through the context actively use this source to drive traffic to the needed source.
Webmasters and marketers use Quora as a source for:
attracting targeted traffic;
search for popular and relevant topics that can be supplemented, expanded, or specified;
competitor analysis.
More than 60% of traffic comes to Quora's website from search engines. Therefore, you can and should use SEO promotion methods on the Quora platform. The resource developers have created their own answer ranking algorithm, identical to Google PageRank.
But before you turn the site into a traffic channel, you will have to work on your account's reputation and "receive recognition" from the participants by answering questions in a relevant manner.
Quora Audience Analysis
Nearly half a billion people use the platform every month. Therefore, Quora's daily traffic is measured in millions of users. The characteristics of the audience in greater detail look like this:
traffic comes mainly from English-speaking countries tier1 – USA, UK, Canada, Australia;
male represent 43% of users, and 57% represent women;
there are about three times more mobile device users than desktop users;
the average target audience age is 30-50 years old.
Overall this all suggests that the bulk of Quora's active users are the solvent audience of the English-speaking segment. Even though the platform is focused on users from Tier 1 countries, it is frequently used by users from Post-Soviet countries. But to launch an advertising campaign, choosing a service for the Russian-speaking audience is more reasonable.
What Verticals Is Quora Suitable For?
The platform covers more than 400 topics. But still, Quora cannot be called a universal promotional tool for any offer. Given the specifics of the resource, you need to understand that many more educated people use Quora. Some seek knowledge, and others share it. This means getting traffic from Quora for e-commerce offers is not the best option. Highly educated people will not recklessly buy cheap consumer goods. Therefore, the products promoted here should be the same as the answers to the questions – high-quality.
For example, ads on Quora can be carefully disguised as a form of news. This is an atypical presentation for users, although the advertising format itself does not imply anything new. Advertising on Quora is hidden in questions, accounts, and expert answers. It always looks like an additional source of helpful information to the user.
Ideal verticals to work with this platform:
essays (webinars, online courses, educational platforms, books);
crypto (operations with cryptocurrency);
insurance (insurance companies, car trade-ins, and real estate);
dating;
sweepstakes (online draws and lotteries).
Fraud and promotion are prohibited on Quora:
gambling offers (online casino, online poker);
installs (utilities);
finance (microloans, deposits, banking services);
nutra (dietary supplements, "weight loss");
adult offers (goods for adults, dating 18+);
malware;
copyrighted content;
falsified documentation;
counterfeit goods;
unproven medicine and science practices.
By the number of banned topics on Quora, we can say that the platform owners took good care of its visitors.
Free Promotion Strategies
You can generate free Quora traffic by answering user questions and providing answers with a link to the offer where applicable. The platform will allow the post if the provided link does not refer to prohibited content. Moreover, relevant thread replies can bring in a lot of traffic.
Before starting to get Quora traffic, you will need to register. The profile should be completed fully to the best ability, look natural, and inspire confidence.
Enter your real name. If you try to impersonate a foreigner, but the language imperfections give you away, then your reputation is likely to suffer.
Fill in the "About me" and "Credentials" fields, and note in which area you are or could become an expert.
Be sure to use a real photo.
Indicate links to you in social networks in your Quora account profile.
Subscribe to categories of topics that interest you, in which you could show your knowledge and experience. At the same time, subscribe to some of the most popular categories that have the leading views count.
Before promoting offers on Quora, you need to define the target audience's needs. You need to know what problems a product or service solves to recommend it to users effectively. To write a quality answer:
Give facts, stories, and evidence, support your point of view with graphs and figures, and involve experts in compiling competent and high-quality answers.
Answer in detail – at least 300 characters; short comments do not instill much expertise.
Format the text so that it is easy to read. Use paragraphs, headings, pictures, and fonts.
Do not strive for the number of views. Instead, try to give a high-quality, detailed answer and "close" the need.
Use advertising sparingly; answers without links should be much more!
If you register several accounts and promote your main profile with them in pursuit of free Quora traffic, you will most likely be wasting your time. This is because a permanent ban will be applied to you, and the accounts connected will be blocked forever.
To choose an offer to drive traffic from Quora, analyze the current topics, questions, and needs and determine the most suitable that would fit the offer you will promote. Then you will need to make SEO articles for each key request and wait as it may or may not work.
Paid Promotion Strategies
You can promote on Quora for a fee using an advertising campaign. Then your offer will be shown to users among the relevant answers to their questions on the topic.
The Quora ad dashboard contains almost the same tools as Facebook, including Pixel. It is enough to register, select a country with an English-speaking population, and you can proceed to create an advertising campaign.
1) Immediately after registration, you are greeted by a simple and easy-to-navigate dashboard where you can select "New Campaign".
2) Fill in the field with the name, indicate the goal, and set the budget.
3) Next, proceed to the Ad set level, where you need to set up targeting:
by GEO;
by content (more accurate for key queries but cheaper for topics);
by interests (based on the history of visits);
by the audience (created in the Audience section).
Below you can select an audience by device type, gender, and ad placement.
It is also possible to exclude impressions for previously collected audiences and near-irrelevant questions.
Next is to set the payment model: per click, per thousand impressions, and per conversion. The latest model will be available after the first ad conversions.
4) The final step is setting up ad campaigns.
There are four ad formats available. One of the most effective advertising formats is response promotion. You can find a question in a vertical that suits you, give a detailed answer with a link to the offer, and run ads on it. Other advertising formats work well too. As a rule, the best one is determined by testing because different offers require a different approach.
All there remains is to create a short title, the main ad text, select media files if you chose Image Ad or Video Ad, and set up a call to action.
Quora Consultants' Recommendations For Creating Advertising Campaigns
Paid promotion on Quora also provides the opportunity to get a free consultation. You will receive an email from a consultant requesting a call. The specialist will better understand your campaign, settings, and creatives and give tips on campaign optimization.
Here's what our marketing team found out:
If you are directing a lead to a landing page, put as many Event pixels as possible to track the sales funnel, collect more data, and retarget those leads that "fell off" at some point in your funnel.
Start your first campaigns by selecting the Traffic objective. This allows Quora's algorithms to learn about your target audience so that your ads will be shown to the most relevant users when you select other targets.
When targeting US and Canada, you can safely combine these two GEOs, as market research shows that users from these countries have similar behavioral habits.
When you set up targeting, you have the opportunity to see what the potential reach of your advertising campaign is. Try to keep this number to at least 20 million.
When choosing a payment model, Quora will offer you the best rate. Experts advise bidding twice as much as Quora offers for your ads to win in the auction. As a result, you will still pay the price 1.5-2 times less than you indicated.
Lastly, using ad formats with images can show good results. Use native images that unobtrusively fit into the feed – pictures of people, objects, etc.
Advantages and Disadvantages of Using Quora in Affiliate Marketing
Since Quora is considered a shareware source in affiliate marketing, it also carries all the disadvantages of this category of traffic:
requires significant time costs, it will not be possible to get traffic quickly;
not the most diverse audience for affiliate marketing;
300 million traffic is not so much to drive big;
limited choice of advertising formats, not all types of advertising campaigns can be launched on this platform;
you need high-quality content – unique and competent;
English-speaking audience;
When it comes to paid ads on Quora, the main disadvantage is the relatively high cost per click. But the advantages of it still prevail:
the high resource authority from Google;
simple registration – there is no need to confirm anything and go through checks (because buying accounts on Quora is not in demand, unlike accounts on Facebook or TikTok, which are selling like hotcakes);
the solvent audience, mainly from Tier 1;
a massive selection of topics and directions – you can drive traffic to different offers;
flexible targeting when setting up an advertising campaign;
the ability to create a positive brand reputation;
an account can succeed in the long run and bring a lot of traffic.
high conversion.
Conclusions
It's time to draw conclusions and answer the question if it is worth using Quora.
It is a popular English-language question-and-answer service that a solvent audience frequents. Newcomers to affiliate marketing will appreciate the simple registration and setup, fairly flexible targeting, and traffic quality. However, the Russian-speaking audience also visits the resource but on a much smaller scale. Therefore, with Quora, it is better to target Tier 1 countries. In addition, it is worth promoting offers from the essay, crypto, and finance verticals, as the audience here can analyze and think sensibly.
Making Quora your main traffic source is probably not worth it. But it is an excellent additional option.
If you want to learn how to drive traffic and are wondering how to start making money with LosPollos, try monetizing a more classic source first, such as push traffic. With LosPollos, you can send all your traffic to one link that automatically directs it to relevant offers. This is an excellent option for beginners to test bundles and not waste their first budget.